Fujifilm Launches FinePix S4500 14 mp Camera With 30x Optical Zoom; Available For Rs 14,300
Allows extreme close-ups from 2 cm away; boasts of instant zoom, faster startup times, and web uploading features; lacks Full HD (1080p) capture.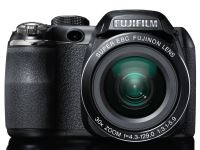 Fujifilm has launched the FinePix S4500, which features a powerful 30x optical zoom lens at a comparatively affordable price. It comes with a 14 mp CCD sensor and a large 3.0" screen, as well as an electronic viewfinder (EVF) to help conserve battery power. It also boasts of a super macro mode that lets you shoot objects as close as 2 cm away. Furthermore, the 24 mm wide-angle lens allows shooting of panoramic photographs. The camera also supports light sensitivity up to ISO 6400, which should help in low-light conditions. Finally, the S4500 is capable of shooting 720p video, but 1080p support would have been a better option.
A few other features supported by the camera are SR AUTO (automatically selects scene mode from six presets), Face Detection (optimises photos of people by adjusting focus and exposure when a face is detected), Blink Detection (warns you when the subject blinks during the shot), and Smile & Shoot mode (automatically takes a photo when it detects the subject smile). CCD Shift Image Stabilization has been incorporated to reduce blur due to shaky hands. Another notable feature is Face Recognition, wherein you can register up to ten "faces" in the camera, and customize the settings for each. Whenever the S4500 detects a face in its database, it will automatically change the shot settings to the one you've stored. Cool features, but I doubt if anyone ever uses them.
A couple of additional extras also deserve mention. Motion Panorama mode lets you stitch together three images into one wide shot, while providing indicators inside the viewfinder itself to align the images correctly. Yet another nifty feature is the Natural Light and with Flash mode, for those who can't decide which is better. The camera automatically takes two pictures — one without flash and the other with — so you can decide later at leisure which one you want to keep. Tagged video clips and photos can be automatically uploaded to your Facebook profile or YouTube account (clips only) via the provided software when you connect the camera to your PC.
The S4500 also boasts of a fast startup time of just 1.8 seconds, as well as improved auto-focus even at full zoom. The Instant Zoom feature lets you zoom into and capture a subject you are following at the press of a button, while Zoom Bracketing takes three shots in a single shutter button press at varying degrees of magnification (original, 1.4x, and 2.0x) so that you won't have to miss out on an important photo opportunity. All this is available at an MRP of Rs 18,000, with a hefty discounted street price of Rs 14,300. The offer includes a 4 GB SD card, carry pouch, and rechargeable AA batteries with a charger. In my opinion, this seems to be well worth the investment. What do you think?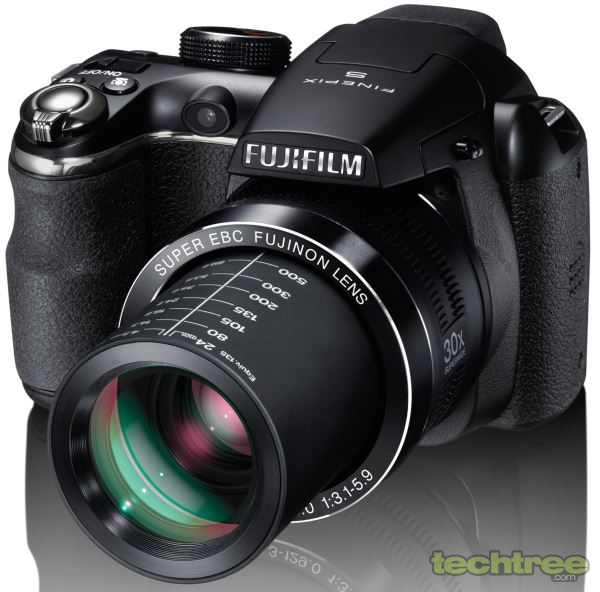 The full specifications list is as follows:
14 million pixels, 1/2.3" CCD image sensor with primary colour filter.
No internal memory, supports SD \ SDHC \ SDXC memory card.
Still image dimensions - Large: (4:3) 4288x3216 \ (3:2) 4288x2864 \ (16:9) 4288x2416; Medium: (4:3) 3072x2304 \ (3:2) 3072x2048 \ (16:9) 3072x1728; Small: (4:3) 2048x1536 \ (3:2) 2048x1360 \ (16:9) 1920x1080.
Fujinon 30x optical zoom lens; f=4.3-129.0 mm, equivalent to 24-720 on a 35 mm camera; F3.1 (wide) - F5.9 (telephoto); ~6.7x digital zoom (up to ~201x with 30x optical zoom).
Aperture: F3.1 \ F8 (Wide), F5.9 \ F8 \ F20 (telephoto) with ND filter.
Focus distance (from lens surface) - Normal Wide: ~40 cm to infinity, Telephoto : ~2.8 m to infinity; Macro Wide: ~7 cm - 3.0 m, Telephoto: ~2.0 m - 3.0 m; Super Macro Wide: ~2 cm - 1.0 m.
Auto Sensitivity, equivalent to ISO 64 \ 100 \ 200 \ 400 \ 800 \ 1600 \ 3200 \ 6400 (ISO 3200 \ 6400 effective in image size Small).
Exposure control: TTL 256-zone metering, Multi \ Spot \ Average; Exposure mode: Programmed AE, Shutter Priority AE, Aperture Priority AE, Manual exposure.
Shooting modes - Zoom Bracketing, Natural Light, Natural Light & with Flash, Portrait, Baby, Smile, Landscape, Sport, Night, Night (Tripod), Fireworks, Sunset, Snow, Beach, Party, Flower, Text; Mode Dial: SR AUTO, AUTO, P, S, A, M, Custom, Movie, PANORAMA.
CCD shift type image stabilizer, Face detection.
Exposure compensation: -2.0EV - +2.0EV, 1/3EV step.
Shutter speed - Auto mode: 1/4 sec - 1/2000 sec; All other modes: 8 sec - 1/2000 sec (with mechanical shutter).
Continuous shooting - TOP: TOP-6 max 1.2 fps, TOP-20 max 3.3 fps size (M, S); TOP-40 max 8 fps size (S); LAST: LAST6 max 1.2 fps, last 6 frames recorded; LONG PERIOD: max 1.2 fps, maximum number of frames varies with image size and available memory.
AE Bracketing: ±1/3EV, ±2/3EV, ±1EV.
Focus mode: Single AF \ Continuous AF (SR AUTO, Movie), TTL contrast AF, AF assist illuminator available; AF frame selection: Centre, Multi, Area, Tracking.
White balance automatic scene recognition presets: Fine, Shade, Fluorescent light (Daylight), Fluorescent light (Warm White), Fluorescent light (Cool White), Incandescent light, Custom.
Self-timer: ~10 sec, 2 sec delay.
Flash - Auto flash effective range - Normal Wide: ~40 cm - 7 m, Telephoto: ~2.5 m - 3.6 m; Macro: ~30 cm - 3 m, Telephoto: ~2 m - 3 m.
Flash modes -Red-eye removal OFF: Auto, Forced Flash, Suppressed Flash, Slow Synchro; Red-eye removal ON: Red-eye Reduction Auto, Red-eye Reduction & Forced Flash, Suppressed Flash, Red-eye Reduction & Slow Synchro.
Electronic Viewfinder: 0.2", ~200,000 dots, colour LCD viewfinder ~97% coverage; LCD monitor: 7.6 cm, ~230,000 dots, TFT colour LCD monitor, ~97% coverage.
Movie recording: 1280x720 \ 640x480 \ 320x240, 30 fps with monaural sound.
Photography functions: SR AUTO, Instant zoom, Face Detection, Auto red-eye removal, Framing guideline, blink detection, Frame # memory, Histogram display, motion panorama, Face recognition, Date stamp.
Playback functions: Face Detection, Auto red-eye removal, Multi-frame playback (with micro thumbnail), Protect, Crop, Resize, Slide show, Image rotate, voice memo, histogram display, exposure warning, Photobook assist, image search, Favourites, Mark for upload, Panorama, Erase selected frames.
Other functions: PictBridge, Exif Print, 35 Languages, Time difference, Silent mode.
Video output: NTSC \ PAL selectable with monaural sound, USB 2.0 High-Speed interface, HDMI-Mini connector.
Power supply: 4 x AA type alkaline batteries (included, ~300 frames in AUTO mode), 4 x AA type Ni-MH rechargeable batteries (sold separately, , ~500 frames in AUTO mode), 4 x AA type lithium batteries (sold separately, ~700 frames in AUTO mode).
4.6" (w) x 3.1" (h) x 3.9" (d), ~543 g (including batteries and memory card), ~448 g (excluding batteries and memory card).
Accessories included: 4 x AA type alkaline batteries, Shoulder strap, USB A\V cable, Lens cap and Lens cap cord, CD-ROM, Owner's manual.
Optional accessories: AC Power Adapter AC-5VX, DC coupler CP-04.