Videocon Launches 4 GSM Phones: V1531+, Dual-SIM V1542, V1548, And V1580; Prices Start From Rs 1850
Range includes two touch-enabled and two bar phones; MRP fixed at Rs 1850, 2100, 2400, and 3000 respectively.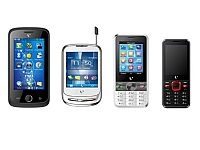 Videocon has added four new models to its portfolio of feature phones. The new entrants are the V1531+, V1542, V1548, and the V1580. While the press release claims that all four phones support the dual-SIM, dual-standby feature, I found that as of this writing, only the V1542's product page mentions the fact. Therefore, it's possible that the PR is mistaken about this rather important item. Moving on, the V1548 and V1580 feature a touchscreen (probably resistive), while the remaining two sport the good old bar form factor with a T9 keypad. Here's the list of common features in the newly-released gadgets:
Dual Band GSM (900 \ 1800 MHz).
FM radio (the V1548 has an antenna, so earphones are not required).
Audio and video player (supported formats vary).
Bluetooth with A2DP, GPRS (the V1580 also supports EDGE).
Social networking (via preloaded Facebook and Twitter) .
MicroSD card slot (8 GB for V1548 and V1531+, 16 GB for V1542 and V1580).
Micro-USB port, 3.5 mm jack.
LED torch (the V1542 and V1580 have dual LEDs).
Coming to the specific features: cheapest of the lot, the V1531 can be bought for Rs 1850. It has a 2.4" display (240x320), 1.3 mp camera with video recording, FM recording and auto call recording support, and a 1,500 mAh battery that claims a talk time of 10 hours. On the other hand, the V1542 sports a 2.6" display, 1.3 mp camera, and a 1800 mAh battery. All this comes at a price tag of Rs 2100.

Among the touchscreen models, The V1548, priced at Rs 2400, comes with a 2.6" display (240x320, multi-touch not supported), 1.3 mp camera, and a 1200 mAh battery. Other notable features include auto call recording and utilities such as a unit \ currency converter, stopwatch, e-book reader, mobile tracker, and SMS \ call blacklist. The retail package also boasts of a 4 GB microSD card that comes preloaded with 20 files each of Bollywood movies, song clips, music tracks, and wallpapers. As in the case of the recently-released V1570, this too is probably an introductory offer that will only last a short while.

The best model of the lot, the V1580 packs in a 3.2" touchscreen, "dynamic" (whatever that means) 2 mp camera, and a 1200 mAh battery. The handset is available for Rs 3000. It comes with Opera Mini out of the box, and also allows installation of other apps, thanks to its support for Java.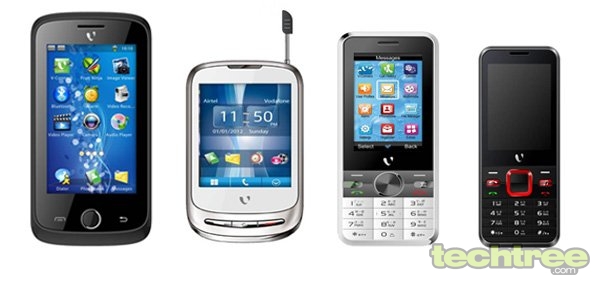 From left to right: the V1580, V1548, V1542, and V1531+.
TAGS: Mobile Phones, Multi-SIM, Videocon, ck