Download: Spacecraft 3D (iOS)
NASA's augmented reality app explains how its robotic spacecrafts Curiosity and GRAIL function.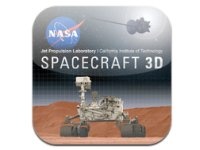 NASA's Jet Propulsion Laboratory has created an interesting Augmented Reality (AR) app that shows how some of its robotic spacecraft are manoeuvred. Spacecraft 3D provides virtual access to two of NASA's creations — the Curiosity rover that will reach Martian soil on 6th August, and the twin GRAIL spacecraft, Ebb and Flow, that are currently orbiting the moon.

The app uses the device's camera to overlay images on the gadget's screen, using a printed AR target. It provides instructions as to how you can print this target on regular paper, on which you can point your camera to check out details about the robots. You can examine the machines from all angles and figure out how these bots perform their functions.

Spacecraft 3D is an offshoot of NASA's earlier project for desktop computers, called Eyes on the Solar System, which provided 3D views of the entire solar system and the probes sent out to study it. The high-res 3D models of the spacecraft in that software were used as the basis of the iOS app. While it's only available on iDevices for now, you can expect the app to reach other other platforms soon. Also in the pipeline are models for other NASA projects, such as the Cassini satellite orbiting Saturn, the Dawn probe in the asteroid belt, and all of the Voyager spacecraft. Check out the gallery for additional screenshots.

Developer: Jet Propulsion Laboratory
Version: 1.0
Size: 47.8 MB
Price: Free
Platform: iOS
Download: http://itunes.apple.com/in/app/spacecraft-3d/id541089908?mt=8