Fujifilm Launches FinePix SL300 14 mp Camera With 30x Optical Zoom For Rs 19,500
Allows extreme close-ups from 2 cm away; boasts of faster auto-focus and startup times.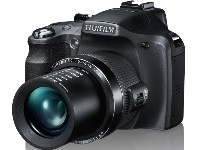 Fujifilm has launched the FinePix SL300, which features a powerful 30x optical zoom lens at a comparatively affordable price. It has a 14 mp CCD sensor with a large 3.0" screen, as well as an electronic viewfinder (EVF) to help conserve battery power. In addition to its 30x, 45-step zoom, it also boasts of a super macro mode that lets you shoot objects as close as 2 cm away. Furthermore, the 24 mm wide-angle lens allows shooting of panoramic photographs. The camera also supports light sensitivity up to ISO 6400, which should help in low-light conditions. Finally, the SL300 is capable of shooting 720p video.
Some other features supported are SR AUTO (automatically selects scene mode from six presets), Face Detection, Blink Detection (warns you when the subject blinks during the shot), and Smile & Shoot mode (automatically takes a photo when it detects the subject smile). CCD Shift Image Stabilization has been incorporated to reduce blur while shooting. Another notable feature is Face Recognition, wherein you can register up to eight "faces" in the camera, and customize the settings for each. Whenever the SL300 detects a face in its database, it will automatically change the shot settings to the one you've stored. Real fancy stuff this, but I doubt if it'll be used all that much.

A couple of cool extras also deserve mention. Motion Panorama mode lets you stitch together three images into one wide shot, while providing indicators inside the viewfinder itself to align the images correctly. Certainly not unique or new, but still noteworthy. Another nifty feature is the Natural Light and with Flash mode, for those who can't decide which is better. The camera automatically takes two pictures — one without flash and the other with — so you can decide later at leisure which one you want to keep. A hot shoe provided at the top can accommodate an auxiliary flash unit if the in-built flash is not good enough for you.

Performance-wise, the SL300 boasts of a fast startup time of just 1.8 seconds, as well as improved auto-focus speed so that you won't have to miss out on an important photo opportunity. All this is available at an MRP of Rs 19,500. Do you think the price is worth the features offered?