I/O 2012: Google Puts Up Android Sculpture Filled With Jelly Beans In Its Campus
Virtually confirms launch of next Android OS version prior to its Google I/O conference to be held later today.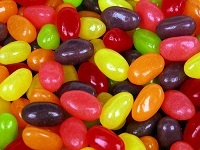 Google's Android operating system is slated to get a bump today with the announcement of the Jelly Bean update at the I/O event in San Francisco. In apparent confirmation of this fact, Google has put up a new Android figure filled with jelly beans on its office campus. This continues its habit of naming Android versions after desserts. This new sculpture stands right next to the Ice Cream Sandwich installation, as can be seen in the image below.

It has recently come to light that the upgrade will be numbered Android 4.1, indicating it's not a radical change over the current Android 4.0 (ICS). Most droids haven't even made the switch to ICS yet, thanks to delays by manufacturers. It will be interesting to see if Google will take a different approach this time around. A low-cost Nexus tablet is also expected to be revealed during the course of the event, so it's not just the update that people are looking forward to. Will the announcement manage to generate excitement among the fans, or will it be a disappointment? We'll know tonight, when the event takes place starting 2130 IST.