Download: Border War Line Of Control (Android) | TechTree.com
Download: Border War Line Of Control (Android)
A desi take on the arcade classic Paratrooper, for the excellent price of free.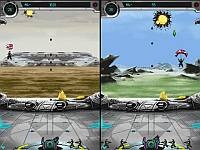 Jump Games, the Indian studio behind the average iPad port F1 2010, has come up with yet another mobile game. Border War Line Of Control is a clone of the original arcade classic Paratrooper. According to the press release: "The gamer plays as an Indian soldier who protects the Indian borders with a new age weapon, Super Cannon; while the opponent (enemy) wants to destroy this tank and invade the Indian border". However, the Indian connection seems to be apparent only in the PR blurb.
Nationality is of little concern when the idea is to use a tiny cannon against tinier parasoldiers, air raiders, plasma bombers, and plasma bombs. Just like its predecessor, the game ends if your cannon is taken out by incoming projectiles, or when four or more paratroopers manage to land and subsequently form a dahi handi of death. The app is available for Android smartphones, but isn't compatible with tablets. The best part? It's absolutely free.
Developer: Jump Games
Size: 1 MB
Price: Free
Platform: Android
Download Page: https://play.google.com/store/apps/details?id=borderwarloc_androidmkp.borderwarloc