New iPhones to Take on iPad Multitasking View | TechTree.com
New iPhones to Take on iPad Multitasking View
The iOS14 build running on an iPhone 11 Pro Max was studied by noted Apple follower Ben Geskin who shared the news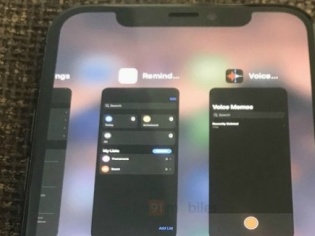 A plethora of rumors have been floating around the new iPhone 12 series that is likely to debut later this year with everything between 5G and dual-SIMs already being spoken off. In fact, our team came up with a list of features that they expect these new devices to carry based on what they'd read about for close to six months.
However, way before these new devices hit the market, Apple is expected to bring forth the next edition of their operating system that is likely to be showcased during their Worldwide Developer Conference (WWDC) in June. With more than three months to the event, noted Apple follower Ben Geskin took to Twitter to share some secrets about iOS 14.
Geskin was quoted by 91mobiles.com to suggest that the revamped iOS 14 could be borrowing the multi-tasking view layout that one gets to use in an iPad. The article also shared a view (you can view it here) where an iOS 14 internal build can be seen running on an existing iPhone 11 Pro Max. It shows four different apps fitting on a single screen.
The video also shows a lock opening when the user dismisses an app from the screen though it isn't clear what its purpose could be. Geskin makes a guess that it could be to ensure that the apps that are locked remain pinned to the window and are not lost or closed accidentally when the user swipes on to another window.
Multi-tasking windows have been a favorite with Apple ever since they began using this feature on their MacBook where one swipes up to use more than one window at a time without having to actually remembering which window had which application, as was the case with the operating systems available on Windows-based laptops.
This was later tweaked for the iPad multi-tasking view where one could access up to four or six apps on a screen and then add some more on to another screen by simply swiping. Now it looks like Apple is bringing this feature to its iOS 14 though it is quite early for us to guess whether the experience would be as smooth as with the iPad.
In recent times, users have described this app switcher as a jailbreak tweak though Geskin and 91mobiles.com believe that it is actually a disabled sub-set of iOS 13 and merely gets activated in the next OS release. Geskin provided another screen shoot that shows how to change between Deck switcher, Grid Switcher, Automatic and Minimum Viable Switcher layouts on the new operating system.
A big change that has been spoken about around the iOS 14 is that Apple may allow users to change default system apps which means one could use Gmail as the default mail and Chrome instead of Safari as the browser of choice. There is also the rumor that with the notch disappearing from the iPhone 12 models, content display may fit the full-screen.
As for compatibility with earlier iPhone models, it seems Apple could end up providing support to all models currently running the iOS 13 which includes all models from the iPhone 6s onwards. Maybe, there would be more such rumours coming around before Apple releases the new operating system in September at its annual bash.
(Tags: Apple, iOS 14, Operating System, Multi-tasking Screens, iPad
TAGS: Apple, iOS, Operating System, Multi-tasking Screens, iPad