Is Apple Joining the Foldable Bandwagon? | TechTree.com
Is Apple Joining the Foldable Bandwagon?
Going by the slew of patent filings, such a move appears imminent though Apple has the smarts to wait and watch how existing foldables do
About a year ago, Apple gave indications that a foldable smartphone was on their minds as they filed for patents around flexi glass and more recently they've filed another with the US Patents Office (USPTO) for an electronic device with a flexible display that overlaps an axis. Both these developments suggest that someone in the company is thinking foldable.
More so after the recent launches of Motorola's Razr Fold and Samsung's Galaxy Z Flip. The latest patent suggests that Apple is looking at a mechanism that would prevent creases by leaving space between the two display panels when they fold together. Of course, merely filing for a patent doesn't guarantee a product as we've seen in the world of consumer electronics over the years.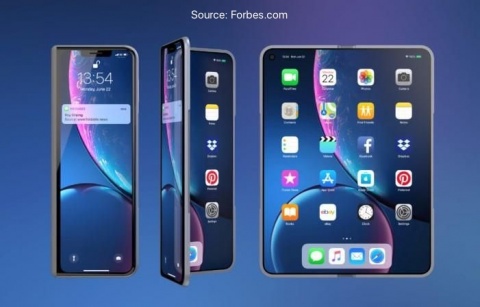 A year ago, EverythingApplePro came up with their own version of how an Apple flip phone would look like and even though it was a figment of someone's imagination, we all liked what we saw. For, Apple has always excelled on design features and user experience (UX) aspects of the smartphones, more often than not becoming the harbinger of new benchmarks.
The latest patent filing by Apple seems to address a major challenge that both Motorola and Samsung are likely to face with their foldable technology. The patent suggests a flexible display mechanism that protects the screen from creasing when the smartphone is flipped open or shut. Readers may recall that the Galaxy Fold came under fire over this issue and we're yet sure that the Galaxy Z Flip has managed to overcome it.
The fact is that over the past decade Apple has filed several patents relating to foldable devices across iPhones, iMacs and even tablets (iPads). But, nothing has really surfaced beyond the patents which have largely been in tune with the foldable phone designs that entered and exited the market. The craziest was possibly the flexible device with a wraparound display that changes shapes!
Does this mean that we can hope to see a foldable from the Apple designers? For one, we are not entirely sure that the company would actually take to the flip technology which appears to be nothing more than a fashion accessory as they offer considerably less features than a competitive product in the normal design framework.
Take the case of the Galaxy Z Flip and the Galaxy S20. It is quite obvious that the former has the looks to kill for but it is the latter that offers value for money, though we believe that only the really brave ones or those with extra cash lying around should approach them as early adopters. Both need to pass the test of time – the first on the foldable front and the other on the 5G capabilities.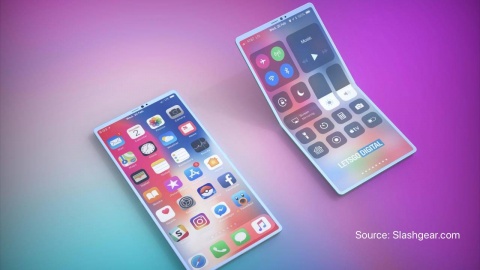 Of course, it is another matter that Apple customers have a wish list that the company could possibly be focusing on for their 2020 release. These include (a) better battery life (b) all-screen display (c) portrait mode on videos (d) 90Hz screen display (e) In-screen touch ID (f) additional storage and (g) reverse wireless charging among other things.
Knowing Apple's penchant for surprising fans, it can well be expected that the foldable device could as well be a tablet. UBS analysts, who analyzed intellectual property filings by Apple, suggested based on a survey that there was high interest amongst Apple regulars for foldable devices.
Given Steve Jobs and his successor Tim Cook's penchant for the form factor, a foldable iPhone or iPad could just be what an entire generation of Apple customers would flip for.
TAGS: Apple, Foldable Phones, Galaxy Foldable, Motorola Razr, Galaxy Z Flip, Razr, iPhone