Is Motorola Worried About the Moto Razr? | TechTree.com
Is Motorola Worried About the Moto Razr?
If not, why is it releasing a series of videos to explain the device in such detail that one could just end up postponing the acquisition
The challenge with smart technology product is to make it appear aspirational and logical at the same time. When Steve Jobs brought the iPhone to market, he convinced us that a touchscreen makes life easier and ironically it was Samsung that benefited the most by launching the Galaxy earlier. Ever since, the story of consumer gadgets has remained unchanged.
Motorola split into two entities in 2011 and Lenovo acquired its mobility division six years ago. It has since managed to rekindle interest in their mobile phones that were once the craze of a generation that welcomed mobility itself. Now, Motorola is bringing back its famous flip phone, with a curved glass to boot, but it appears shaky for some reason.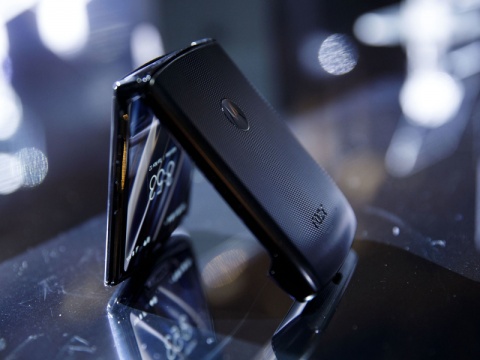 For, why else would Motorola suddenly release a string of videos? Ostensibly to explain the device but more specifically to suggest that users should provide extra care for their phone. Maybe there's nothing in it but it would be only the dimwit who wouldn't automatically draw a connection between these advertisements and the fact that the Moto Razr launch was delayed once before.
The 42-second support video available on YouTube titled "Caring for Razr" asks users to keep the screen dry, avoid adding protectors, keep it away from sharp objects such as keys and always remember to flip the phone shut before tossing into the pocket. Could it be that the company just wants to make a new generation of users about how the flip worked before.
Or is it that the company is issuing a caveat that things may actually go wrong with the foldable device due to the screen and phone creases could roughen the flat display? The video makes a passing reference that the "screen is made to bend; bumps and lumps are normal."
There is more than just a single video on Motorola's YouTube page that could be categorized as everything between short-form advertisements to how-to videos. Given that the new model is already available for pre-orders and first shipments are scheduled on February 6, this strategy from Lenovo appears to be at best ambiguous and at worst, a form of anticipatory bail for malfunctioning phones.
Maybe we are just being wary. When Motorola launched the Moto Razr, officials were quite confident about the durability of the curved screen though they did issue a warning about how customers should be cautious while using it. As was the case with the Samsung Galaxy Foldable, there are bound to be some issues with an emerging technology.
Which is why these videos could end up being a double-edged sword. The company has received decent numbers of pre-orders but those who haven't yet taken the plunge may not do so now that these videos out there are asking users to be extra cautious with the screen.
Also, there are rumors to suggest that Samsung, which is conducting a launch event on February 11, barely a week after customers get their hands on the first of the Moto Razr flip phones, might just showcase the Galaxy Z Flip that is a direct competitor to the Razr.
In which case, it could be bad news for those who pre-ordered with Motorola without waiting for Samsung to showcase its foldable prowess.
TAGS: Motorola, Razr, Samsung, Galaxy Foldable, Foldable, Galaxy Z Flip, How-To Videos