Facebook Acquires VR Game Studio Beat Games | TechTree.com
Facebook Acquires VR Game Studio Beat Games
This signals a deliberate shift in the company's strategy from social sharing to gaming and other virtual reality associated activities on the platform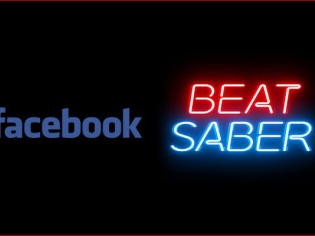 When Facebook announced its virtual reality sandbox called Horizon a month and some more, it became quite clear that the company was going back to its Farmville days. Now, the company has announced that it would be acquiring Beat Games, the studio behind Beat Saber, the rhythm game that's caught the attention of the world and its nephews and nieces.
This when a section of the nay-sayers is piling on to the VR movement on grounds that there aren't really that many VR hit games on the radar as of date. But, for Facebook this could be a welcome escape from all the controversies that the company has gotten into through its original business model.
For those who may have forgotten, Facebook had acquired Oculus Studios was acquired by Mark Zuckerberg in the spring of 2014 in a cash-and-stock deal that cost them $2.3 billion. Though the terms of the Beat Games deal haven't been disclosed, they would formally join Oculus while operating independently from their offices in Prague.
A blog post, Oculus Studios says the decision to acquire Beat Games was based on the strong team and proven potential across VR, games and music that the company had. "With the resources and know-how that we can offer, Beat Games will be able to accelerate, adding more music and more exciting features to Beat Saber" while also expanding its reach.
Given that Oculus has spent most of the past five years working on the content ecosystem for Facebook's virtual reality headsets, having a strong content partner with at least one hit online game in its kitty makes it clear that Facebook considers VR and AR to be the next best thing on which to peg their growth plans.
In fact, even with respect to the content, Facebook has shifted away from experimental content creators in the VR medium to the bigger names around the market so that the Oculus platform can attract more game buffs with some high-profile titles. With Beat Games, the company is obviously toeing the line of Microsoft and Sony who acquired small studios and funded new titles some years ago.
Facebook seems to be taking that added step by suggesting that it wasn't after platform exclusivity when it came to games. In the blog post, Mike Verdu, Director of Content at Oculus Studios refers to the history of indie studios joining large companies and being ruined. "The story we aim to prove over time is this: An indie studio joins forces with some like-minded allies, and together they find a way to push VR to new heights."
He also goes on to suggest that Facebook (via Oculus Studios) would be explore many ways to accelerate VR and the year ahead could see several game launches and announcements that includes more acquisitions like Beat Games. "This is just the beginning," he says.
By acquiring a company that has more than a million copies of the game out in the market, Facebook has very clearly shown the cards that it intends to play in 2020 and beyond. By indicating that the company, which operates a lean and mean team out of Prague, would continue to remain, Facebook is hinting that Beat Games will be free to function outside of the large Facebook bureaucracy, often seen as a millstone around the neck of creativity.
There were also some concerns about how the acquisition would impact user mods where the studio had tools using which players could create their own songs and upload audio files, thus creating a bank of user-created content. However, Mike Verdu wants us to believe that things need not change from what they are now.
While understanding the value of mods, he says the company would do its best to preserve their value to the player base of Beat Saber and goes on to remind us that recent policy updates provide more clarity on how developer mods would be used in the future. He goes on to suggest that Facebook would help developers build their own apps and enthusiasts to explore new concepts though it would crack down on piracy and malware.
Looks like Facebook is convinced that the move from online reality to virtual one is the road ahead for sustained growth.
TAGS: Facebook, acquisition, Gear VR, VR, Beat Games, Oculus Studios