Facebook's Horizon Could Turn Us into VR Addicts | TechTree.com
Facebook's Horizon Could Turn Us into VR Addicts
Facebook's latest tryst virtual reality products could create a generation living on the edge between reality and imagination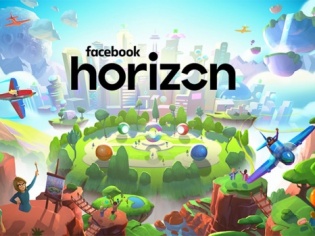 Remember Farmville? For those who do not, it was a game that Facebook used to drive engagement on its platform and almost caused a brain meltdown for the millions who began growing farm produce and sharing and exchanging virtual veggies and fruits. The game, developed by Zynga, hit bulls-eye to a population getting hooked to the Internet with no specific requirements but loads of time to kill.
Barely five days back, Facebook announced that it was building its own thingy called Horizon that offers users a VR sandbox universe where they can build anything and everything from virtual ecosystems to games, stories and the works. Of course, there could still be some issues attempting to build one's parents or children… but who knows?
Having tasted failure with its earlier efforts Facebook Spaces and Oculus Rooms, this time round the company wants to up the ante. Horizon would allow users to create diverse avatars, hop between virtual locales using 'Telepods', watch movies and share and be part of other universes owned and managed by friends and relatives.
The launch is scheduled for early 2020 in closed beta though Facebook has already invited applications from those who want to be part of early beta testing. The video on Horizon that explains the product seems to suggest that it could be a virtual gaming platform with all the perks of inter-connectivity and ability to share and socialize.
Of course, the introduction appears to make the latest VR attempt a big improvement over both their previous experiments that debuted two to three years ago. While Rooms was a wee bit more than an interior décor sampler, Spaces allowed users to chat, watch movies and… this is what kills it… allow users to take selfies with others on the platform!
With much more at stake and a lot of features that could turn addictive, Facebook seems intent on increasing screen time when mental health professionals are asking us to reduce it for obvious reasons.
A study published on BMJ, also known as British Medical Journal, suggests that higher levels of screen time could be associated with a variety of health issues like strong adiposity, unhealthy diet, depressive symptoms and a general degeneration of the quality life.
The latest product, which allows users to start and build their own reality online can only further aggravate these symptoms. Facebook CEO Mark Zuckerberg proudly announced that Horizon would have this property where it expands and gets better with time as the company and its community build more experiences for the VR sandbox.
From his point of view and that of the company it makes perfect business sense as it would only facilitate more social interaction and generate more revenues through monetization through ad view based on time spent on the website.
The problem is that users who get addicted to the story may just find themselves moving away from reality and causing problems for themselves.
TAGS: Facebook, Horizon, virtual reality