Seagate Announces GoFlex Satellite Drive
A portable media server for streaming multimedia content to tablets and smartphones.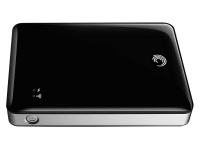 Do you think you're getting ripped off big-time by tablet makers charging an obscene amount of money for a few extra gigabytes of storage? It seems Seagate has answered your prayers with its GoFlex Satellite portable hard drive. The external HDD solves your storage woes by adding Wi-Fi streaming and a rechargeable battery. This way, the Satellite's 500 GB capacity saves your tablet or smartphone from the burden of storing bulky multimedia content. The mobile wireless storage drive can stream content to a maximum of three 802.11 b\g\n capable devices.
The drive interfaces with tablets and smartphones through the GoFlex Media app available on iTunes, Apple App Store, and Android Market, or right through a web browser. Seagate claims that its small and lightweight lithium polymer battery delivers five hours of continuous video streaming and a standby time of 25 hours. The GoFlex Satellite optimises battery life by buffering content, which allows the drive to enter standby mode while the media plays off the cache. The drive supports the speedy USB 3.0 interface and is backward-compatible with USB 2.0 as well. It comes preloaded with Seagate's Media Sync software, which allows you to synchronise multimedia content from your PC or Mac.


The GoFlex Satellite will be available from this month-end at an MRP of Rs 11,500. While that sounds like a lot for a 500 GB drive, look at it this way: are you willing to let Seagate rip you off for 500 GB, or would you rather have your tablet manufacturer scam you out of ten-odd thousand bucks for a few gigabytes more?