Humble Indie Bundle V Adds Braid, Super Meat Boy, And Lone Survivor To Roster | TechTree.com
Humble Indie Bundle V Adds Braid, Super Meat Boy, And Lone Survivor To Roster
Updated package offers eight indie bestsellers worth $155 for a shade over $8; raises $3.8 million till date.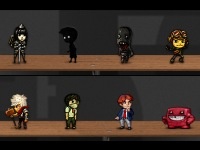 A week after the launch of the Humble Indie Bundle V, independent video game enthusiasts are in for an unexpected treat. The bundle now includes three additional games: the sublime temporal puzzle game Braid, masocore masterpiece Super Meat Boy, and Silent Hill-inspired sidescroller Lone Survivor. This is in addition to the existing lineup including Bastion, Psychonauts, Limbo, Amnesia: The Dark Descent, and Superbrothers: Swords & Sworcery EP.
The unique nature of the compilation allows users to pay whatever they wish for some of the most celebrated games by independent developers. However, note that Bastion and the three new games are available only to those who pay more than the average ($8.16, as of this writing). Having said that, it's nothing compared to the $155 (Rs 8800 approx) you'd otherwise have to shell out for these games. The Humble Store has even thrown in the game soundtracks for free.
Karma seekers will also be thrilled to know that they can decide how many of their dollars go to the developers, the Humble Indie Bundle team, and charities such as the Electronic Frontier Foundation and Child's Play. This offer won't last forever though, as it closes on 15th June.
Click here to purchase the Humble Indie Bundle V.