Electronics Consortium Launches DDB, A New TV Platform With An Integrated Set-Top Box
Claims to offer all the features of Smart TV, with better audio-visual quality and 3D conversion.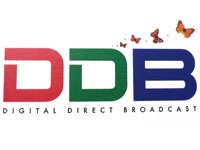 The DDB Foundation today launched what it calls "The World's First Digital Entertainment Platform", known as Digital Direct Broadcast (DDB). It claims to offer all the features that current generation Smart TVs offer, and adds in a few of its own. These include an integrated set-top box (STB), better audio-visual experience, superior web browsing, and the ability to convert 2D channels to 3D. The foundation consists of STMicroelectronics, Videocon d2h, Philips, Irdeto, Nivio, Faroudja, and Strata.
DDB-enabled television sets will contain a fully integrated STB, eliminating the need for an external device. According to the DDB Foundation, this will be in line with the government regulation of delivering cable television broadcasts via set top box from 1st July, 2012 in metros and by 2015 in all of India, meaning that the STB will be compliant with existing cable networks.
A 450 MHz dual-core CPU from STMicroelectronics will take care of the Full-HD video and audio processing. The new platform also offers 14-bit colour processing as against the 10-bit processing that is in common use, thus allowing display of 4 trillion colours instead of 10.6 million. However, we must make it clear that the final display quality will depend on the quality of the panel. There is also a technology that interpolates and constructs missing or dropped frames to make motion appear smooth. As mentioned earlier, DBB has an inbuilt algorithm that can convert 2D live channels to 3D, when the TV is capable of displaying videos in three dimensions, of course.
In addition to a claimed advanced noise reduction by Faroudja to iron out distortion and remove noise, the audio is Strata-certified, meaning that it supposedly delivers booming bass and crisper treble via speakers constrained by the slim dimensions of today's flat panel TVs. A 10-band graphic equaliser has also been thrown in to allow users customise the sound. In addition to internet browsing, social networking, and watching streaming videos, the new platform allows you to access and share files, pictures, songs, or movies with anyone by simply uploading it to the cloud. This includes movies that users can capture via the DVR feature, although how it will not amount to piracy, if the movie is copyrighted, is not known. Information about he underlying OS was not available. The software can be updated over-the-air, thus ensuring that it remains bug-free and future-proof by adding new features, provided these updates come timely.
While DDB technology is already in existence, it will take a few months to actually make it to the consumers. Talks are in progress with several television manufacturers to embrace this new standard and more will be revealed in the months to come. While the technology on the whole is quite interesting, it will definitely increase the cost of compliant television sets to an extent. We only hope that the overall cost should not exceed the total price that consumers pay today to buy a television and an STB. The success of this platform depends on how well the foundation is able to keep the price in check and also on how many big TV manufacturers adopt it.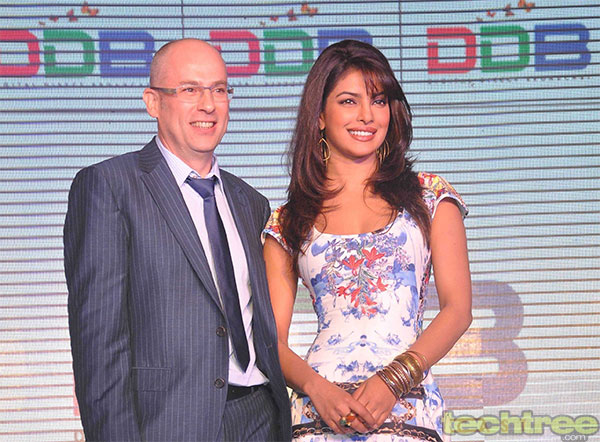 Yannick Pallard, Director DTV Business Line STMicroelectronics with DDB Brand Ambassador Priyanka Chopra.