Computex 2012: Acer Announces Aspire U Series All-In-One Windows 8 Desktops
The Aspire 7600U sports a 27" multi-touch screen, is only 35 mm thick.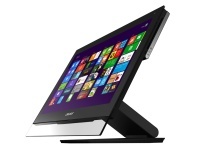 Acer has launched an assault at Computex 2012 with its all-in-one (AIO) PC range. These desktops blend the new touch-optimised Windows 8 OS with 64-point multi-touch screens. The Aspire 7600U and 5600U sport 27" and 23" panels respectively, with the 7600U packing all its components into a 35 mm slim chassis. These PCs can be mounted on walls, and the screen can be swivelled 90 degrees from portrait to landscape mode for comfortable web browsing and reading e-books. For ease of use, they can also be tilted from 30 to 85 degrees to facilitate ergonomic touch inputs. However, with 27" of real estate, extended use of the touch interface can get tiring pretty quickly. Finally, for the price, you also get Full HD (1080p) visuals and Dolby Home Theater surround sound. Acer's announcement doesn't reveal much of the technical specifications, price, or launch date, apart from a claim that the GPU included is "powerful". I guess the same can be said of Acer's hype machine.