Anonymous Targets BJP's Websites For Not Opposing Web Censorship | TechTree.com
Anonymous Targets BJP's Websites For Not Opposing Web Censorship
Hacker group defaces multiple pages, calls Indian citizens to organise protests against internet control on 9th June.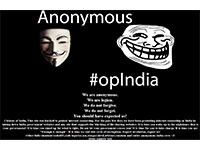 The international hacker group Anonymous, has now turned its attention to the opposition party to the Indian government, the BJP. The group hacked into BJP Mumbai's website and its parent BJP website, and replaced the home page containing its message, accompanied by a nice tune. The reason for this hack is that the opposition party has failed to oppose web censorship policies of the ruling party, and that it did not organise protests. While the websites are back in order, the page inserted by Anonymous continues to be hosted on the BJP Mumbai's website.
The group then posted a message that read, "Today they took away your right to use a few websites... day after tomorrow they will take away your freedom of speech and no one will be there to speak for you. Speak Now or Never". It has further exhorted the people of India to organise protests against internet censorship on 9th June. Interestingly, it has even advised people about protest methods that includes printing and wearing Guy Fawkes masks in Bangalore, Mangalore, Kochi, Chennai, Vizag, Delhi, Mumbai, and Hyderabad. The Facebook page of the group's Indian arm has already started setting up event pages to rally interested individuals.
Anonymous had recently hacked websites of the ruling Congress party as well as Reliance Big Entertainment, and it seems to be unstoppable. Will you be part of the protests against web censorship on 9th June?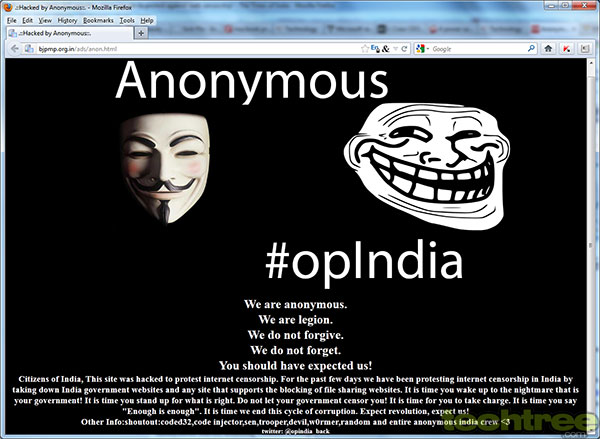 TAGS: Internet, Security, Government, Anonymous, Jayesh