Samsung Partners With Reuters To Create VR News Content
Samsung Gear 360 will be exclusively used by Reuters photojournalists to produce news content for Focus 360, a 360 degree VR worldwide news portal.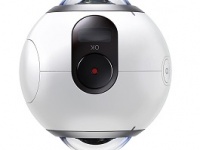 From gaming and entertainment to healthcare, virtual reality has captivated the imagination of users across the globe. The applications of VR has been diverse and the industry is fast expanding to be recognised as the next big thing by pundits. This time, however, journalists seem to have been bitten by the VR bug. Virtual Reality is poised to change the way visual journalism is being delivered to and viewed by the people all over the world.
Reuters, the world's largest international multimedia news provider, announced an agreement with Samsung to bring Reuters photography and video to new dimensions through an inventive program, Focus 360. The Focus 360 partnership capitalizes on the expertise and scope of Reuters global team, providing virtual reality and 360 degree video and photography news content from around the world, using Samsung Gear 360 cameras and editing technology.
Focus 360 will provide rich VR and 360 content to meet the changing needs of customers, who are increasingly relying on engaging video and photo experiences for their users and viewers.
According to a report published on DigitalTrends, 50 Reuters photojournalists across 25 countries will employ Samsung Gear 360 to help create history in the field of visual journalism.
Focus 360 is slated to be launched online and on Android on August 2 and the iOS version would be released on the 5th of this month. Those with Samsung Galaxy phones including the Samsung Galaxy S6 and 67 with their VR headset can seamlessly view Focus 360. Reuters photojournalists would among those privileged to get a hands on experience with Samsung Gear 360 which is not avaiable to the general public.
Read : Top Five VR Headset Worth Every Penny
TAGS: Samsung, virtual reality, Samsung Gear VR, VR Content