Wearable Sports Device Specter - Now on Kickstarter | TechTree.com
Wearable Sports Device Specter - Now on Kickstarter
Makers claim that device creates afterimage effects with bright LEDs to help users engage in safe fitness regime at night.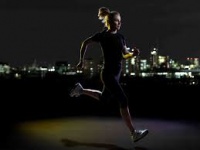 Niports in a bid to help night runners and athletes with a wearable sports device that assures their safety in the dark has developed Specter. Specter a sleek, wearable device combines safety, technology and style. Specter (www.myspecter.com) fits around the wrist and features 10 high quality LED lights, which can be programmed via any smartphone to display customized afterimages when in motion. The Kickstarter campaign is now live at http://kck.st/2athaDv .
"There are many advanced technological gadgets on the market today; however, when it comes to personal safety, the only wearables available are simple, low-tech flashing LEDs," says Niports CEO Brian Ro. "With Specter, we have created the first high-tech device that not only keeps people safe during all night sports and recreation, but is also stylish."
When in motion - such as jogging, skating or cycling - the LED lights leave a distinct, glowing after-image that anyone can see. This feature serves as a safety measure to prevent the wearer from blending into the dark and possibly suffering an accident.
Brian Ro survived his own brush with disaster when he was hit by a car while running at night. This experience motivated him to research and develop a product that would make exercising at night a safer experience. The design team at Niports studied the wearables market to see what did and did not work. After numerous prototypes, the team finalized the design that is now featured in the Kickstarter campaign.
Read : Wearable Technology Upgrades To Smart Fabrics!
Personalization is what sets Specter apart from the sport wearables crowd. From the companion mobile app, users can type, draw, import or download afterimages for the device to display. These images can be further customized with color and brightness controls. Sixteen million-plus colors and 100 brightness levels means that no two users have to display the same afterimages.
"Daytime wearables offer a huge assortment of styles and fashions," remarks CDO Simon Jeong, "yet typically the only fashion available for night runners has been single-color lights with no thought given to design aesthetics. We believe Specter is the solution for people who want to showcase their identity through our device, while the bright and dynamic lighting effects keep runners safe."
Using Specter is simple. The wearable device fits snugly on any wrist with its adjustable strap. When powered on, any nearby smartphone with the Specter app can connect via Bluetooth. From the app's interface, users can choose their desired image and load new images. The Specter mobile app not only enables users to program custom afterimages, but also track and record fitness data such as speed and distance.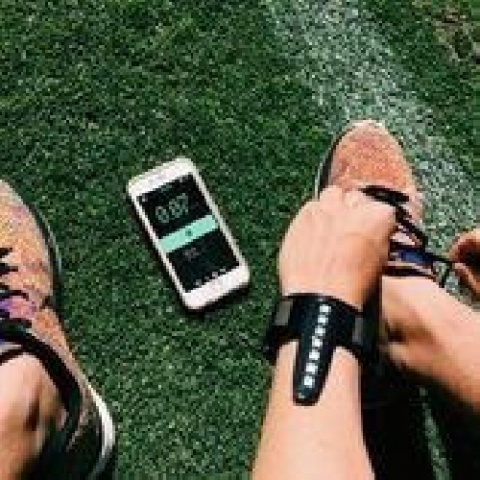 Specter's hardware is contained within a sturdy, waterproof metal casing, and battery life is a minimum of 48 hours. A pair of buttons allow athletes to cycle through all of their pre-programmed images. Opposite those buttons is an on/off button. Most surprisingly, Specter weighs in at a featherweight-like 35 grams. The device's simple, ergonomic design fits comfortably on wrists or ankles, and is ideal for any kind of sports or recreation.
Niports is offering an assortment of perks for Kickstarter backers, from single Specter devices to discounted package deals. For $39, supporters can take advantage of the super early bird special and be among the first to receive their device. The regular early bird special is priced at $49. Both early bird specials are limited in number, so interested consumers should act quickly.
Mass production of Specter will begin in October; Kickstarter backers should receive their orders before the New Year. Each package will contain one Specter device, an adjustable strap and a micro USB cable for charging. The Specter app (for iOS and Android) will launch in tandem with the first shipments.
TAGS: Wearable Devices, Wearable Technologies, Kickstarter, Press Release