Say Cheese, Prisma Is Now On Android!
Android users can now download the app from Play Store, so get clicking!
Prisma App has been a raging sensation since its launch last month, and its initial debut on iOS platform with over 7.5 million downloads, it make one of the most popular photo editing apps ever on the face of this planet. Soon Facebook and Instagram was flooded with people uploading their Prisma pictures. Everyone wants be as mesmerizing and dainty as a painting inspired by the strokes of legendary artists such as Van Gogh, Picasso, Munch, and Mondrian. Android users need not be envious anymore, Prisma is now available on Android. :)
The photo filters are backed by artificial intelligence and neural network and was developed by the Moscow based Prisma Labs founded by Alexey Moiseenkov. The company had tweeted about the Android roll out of Prisma.TechCrunch has reported that the Android version of the App is backed with over three dozen filters and that speculations of acquisition of Prisma is gaining steam.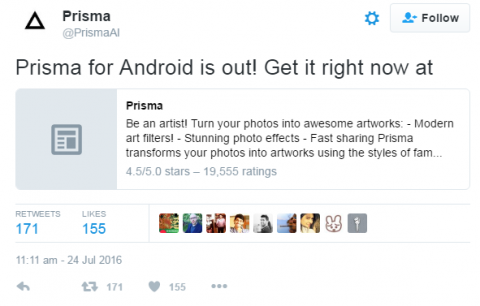 Prisma is now the darling of all selfie addicts, and the filters are indeed a refreshing and interesting change from the old pencil sketches and the dog filters! As per App Annie, Prisma's popularity is fast growing and SnapChat and Instagram will need to come up with something imaginative and stunning to beat Prisma!
However we also noticed that you need data connection to enable the filters on your picture. It would be great if this could not consume a lot of data and hopefully edit offline as well.
Image Courtesy : Google Play Store
TAGS: Prisma App, Instagram, Snapchat, Google Play Store