Apple Pulls Non-Retina MacBook Pro Off Shelves | TechTree.com
Apple Pulls Non-Retina MacBook Pro Off Shelves
Reports suggest that the company is finally killing their legacy product.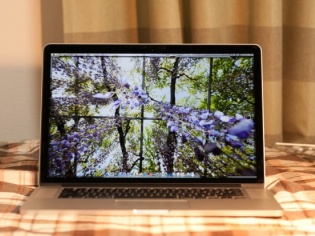 If you are an ardent MacBook fan and still awaiting the big bonus at the workplace that could help buy your first Apple laptop, this could just be the appropriate time to splurge some solid cash.
Of course, in the bargain, you may not get to lay your hands on the latest Retina technology that Apple brought into its MacBook series last year. But, what the heck! The non-Retina ones could still provide most of the fun that you hoped to have with the MacBook.
Why do we say so? For starters, there are media reports emanating from the United States that suggest that the 13-inch non-Retina MacBook Pro is being removed from the show desks at Apple Stores.
Also Read: Review: Apple MacBook Pro 15 (Late 2011)
A report published on AppleInsider.com quoted unnamed shop assistants (Read the Full Report) to suggest that while stock was available aplenty at these stores, people looking to buy the laptop would not get a chance to try it out as they have been removed from the showcases.
Whether it means a final good-bye to the MacBook with the ubiquitous spinning optical disc drive is anybody's guess. After all, the last major update that happened on the non-Retina MacBook Pro was four years ago!
The report was further corroborated by another article published in the NextWeb.com (Full Story), which quoted retailers in the San Diego area to suggest that though no formal communication was received from Apple on the reason for this change, the fact that the machines were no more on display remained true.
Of course, the store assistants reiterated the known fact that this old favorite with MacBook lovers continued to garner interest with buyers actually asking for the model, trying it out and eventually swiping their credit card.
Followers of Apple have been speculating a massive overhaul of the MacBook when Tim Cook stands up this September to launch new products. Of course, the article goes on to suggest that it might be better to wait for discounts on the non-Retina models of the MacBook or studiously avoid buying one.
Also Read: Five Reasons You Want To Postpone Buying That MacBook
Given the fact that all of Apple's major products now come with Retina displays, the decision to put the older generation MacBook that runs on optical disc drive makes sense for the company that is battling trepidations caused by their first ever quarterly sales decline since inception.
Rumours have been doing the rounds (Read the story on AppleInsider) about a new redesigned MacBook Pro that would feature an OLED 'touch bar', a touch ID fingerprint sensor and a secondary display that could be customized.
TAGS: Apple MacBook Pro, Apple, Mac Rumors