Google Homes In On Amazon's Popular Echo | TechTree.com
Google Homes In On Amazon's Popular Echo
Though the device is a shameless copy, it should be bad news for others.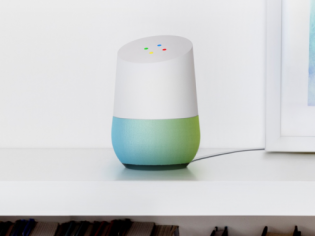 In an earlier article, we referred to Google's penchant waiting patiently for a rival's innovation to gain ground before adding a 'wow factor' of its own to it and stealing the thunder. A look at the company's smart assistant 'Google Home' suggests that history has repeated… and this time the victim is Amazon's Echo.
Most geeks and technology observers expected Google to follow once Amazon surprised everyone with the announcement of Echo in November 2014. Last night at the Google I/O, it was announced that Google Home will debut later this year at an unspecified price. In case you're interested to get notified for updates, you could sign up here.
What's Home?
The product is being piloted by none other than Mario Queiroz, the man who has launched the Chromecast, to some the only successful living room product from the Google stable. So, what exactly is Google Home?
In the words of Mario, it is a small speaker that one plugs into the wall with the always-listening mode switched on. It will not only answer all your queries, it will also play your music, control some of the home automation gadgets and "would definitely be better at most of those things than the Echo."
And, how does it look?
In physical appearance, the Google Home is a small little cylinder with an angular top, out of which the speaker peeks out a bit. The appearance has been differently described as 'cute' to 'monstrous' based on individual taste. It has a customizable modular case where one could add different base shells to match the room décor. There are also some LED lights to provide a strobe effect when the device is switched on.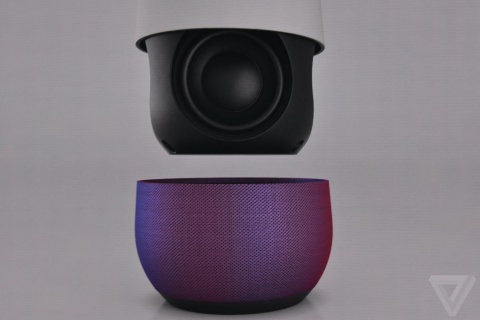 [Image Credit: The Verge]
The device is not portable but can always remain plugged in and Google can create a better speaker for it. Mario holds the view that the device 'really fills the room" with a "strong bass and clean highs", suggesting that Google wants to improve upon something that Echo doesn't do well – play music.
So, where do we think that Google Home can give the Amazon Echo a run for some of Jeff Bezos' money? Here is a brief list, based on information that came out from the Google I/O...
The Wow Factors
An obvious differentiator would be the manner in which Home would use AI or user preferences and knowledge that it garners via Google Search to provide answers to questions and follow-up questions thereafter
Google Home allows users to play on multiple devices across Google Cast Speakers within a house at the same time. Of course, this is an area where Echo misses out completely.
Since Google Calendar and Gmail are central to those who use them, one can expect Google Home to play the perfect assistant by helping users organize their day and their work better. Alexa doesn't pass muster here.
While Amazon Echo has largely remained within the US and confines itself to English language, it would only be a matter of time before Google Home speaks back to you in your native tongue.
Users have often complained about the quality of sound output with the Amazon Echo. So, Google obviously would look to build upon this and make the device sound good and play fabulous music.
The Ouch Factors
Currently Google Home is tied to one's Google account. In case Google Home allows switching between such accounts, there could be a great experience for users. Else, one has to ask, "So, what's the big deal?" #WTF
The bigger 'ouch' factor would relate to the openness of the development platform. While Alexa is relatively wide open, which means a lot of things over and above expectations emerge. While Alexa is API driven, Google Home is a stand-alone affair.
Many people in the US have Amazon Prime with its quota of free music and streaming service. Additionally, Echo also supports Spotify. Google has been mum on these fronts. It doesn't even mention whether one has to sign up for Google Play Music to get the music flowing.
And, the one place where Amazon would distinctly score over Google is if there is some shopping to be done. We all know who wins in this area and wins handsomely!
TAGS: Google, Google I/O 2016, Google Home, Amazon Echo