Google I/O 2016: What's Made News So Far | TechTree.com
Google I/O 2016: What's Made News So Far
It's been a lot about VR and AI.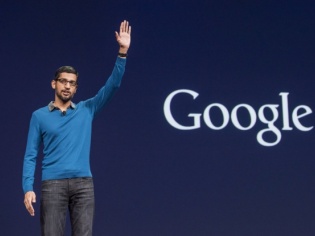 Everyone's been waiting for it, and it's here: The Google I/O conference in San Francisco. The three-day event has something for developers, mobile users, ancient AI enthusiasts, and everyone in between.
VR is a key theme at Google I/O 2016, but somehow, AI seems to be another big area. I'm a little surprised — and also not so much, given how much attention voice assistants and such things have gotten in the past few years.
The more interesting things as of this writing include:
A reference design of the Daydream VR headset. There are "several" devices currently in the pipeline. Daydream is an Android N-based VR platform, and as The Verge reports, it will work only on phones with special sensors and screens. A step further, Google also named its hardware partners for Daydream.
Then there's a smart messaging app called Allo, powered by the new Google Assistant service: Apart from chatting using animated graphics and all that, you'll be able to "call in Google (and later other third-party apps) to share media, plan events, buy things, and even think of what to say to each other." That last bit sounds just like Google, and it doesn't sound like something a God-fearing developer would work with. Looking at the app in action, I'm getting a little creeped out: "You can chat with it directly, or ask it questions," TechCrunch reports. The animation there shows me how it's telling you what to say. Google Suggest / Auto-complete is one thing, but this? Anyway, let's not be doomsday-mongers.
Hang on. CEO Sundar Pichai is discussing how Google is working on computer vision AI to diagnose Diabetic Retinopathy, which requires real human skill. Why is Google so much into AI? Chat-bots and voice assistants don't require much of a dose of AI, I'd presume — but I'm no computer scientist.
And yes, there's a video calling app calling Duo. It's a companion to Allo, as I'd presume. Apparently it'll be available for iOS as well. Duo won't require a login, using your phone number as the ID instead. Google's Erik Kay says "it's fast, performs well on slow networks, is end-to-end encrypted..." It automatically adjusts the video quality for your bandwidth.
An answer to Amazon Echo, the wireless speaker and voice-command recogniser. Utility-wise, I don't think much of it, but in terms of design and sheer sexiness, I'd love to have one. So Google Home — "a voice-activated home product that allows you and your family to get answers from Google, stream music, and manage everyday tasks" — is underway; the Home platform, however, isn't open to all third-party developers. Some launch partners, though — WhatsApp, ticket booking and cab services, and more — have been announced.
And last but not least, Google Assistant — an upgrade to Google Now, the (current) personal assistant from Google. In 2012, Google Now was named Innovation of the Year by Popular Science; however much of an upgrade Assistant is, the point is that it's built into Allo as well as Google Home.
That's the bulk of it for now, but we have two days left.
VR and AI. Too much to talk about here. At one point, VR was doomed dead; in 2015, though, The Verge brought out a beautiful presentation titled "The rise and fall and rise of virtual reality." It's well worth the time. And then again, we have something from MarketWatch of just a while ago: "VR, the newest trend in tech, is (for now) dead on arrival." What do you think?
AI is even rougher territory. At one point it got relegated to chat-bots and academia and philosophy and well, perhaps translation or something like that. And now Google is talking about it — a lot.
Watch the presentations and announcements Web-wide and tell us what you think about the most exciting company on Earth!
TAGS: Google I/O 2016, Google, Allo