YouTube Now Gets A Separate Music App For Android & iOS Users | TechTree.com
YouTube Now Gets A Separate Music App For Android & iOS Users
The app features official music videos, popular covers, remixes and even concert videos.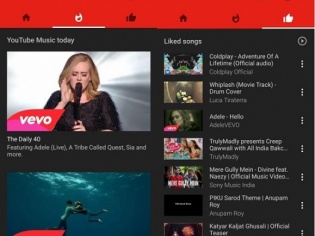 If you are a music lover, YouTube finally has something great for you - an Android and iOS app dubbed as YouTube Music.
With the launch of the new app, YouTube is aiming to helping music lovers discover music easier, allowing users to explore YouTube's lists and channels with music videos.
While the app features official music videos, it also lists down popular covers, remixes and even concert videos.
The key feature of the YouTube's music-only app is that it will never stop playing music and the home tab in the app displays music tracks and videos that have been recently played.
The app also recommends music videos based on its users priorities while also the newly launched music videos will be showed on the home screen of the app.
[Related: MixRadio Partners With Samsung; Preloads App In Future Devices]
Additionally, when you install the app and sign in using your Google account, you will be getting a 14-day free trial for YouTube Red membership which actually allows you to play music in the background while you can also watch videos ad-free.
However, if you would like to opt out of the YouTube Red membership, you can still listen to music tracks for free, but, with ads. This is much similar to the actual YouTube app.
The YouTube Music app is currently available only in the US while it is expected to enter India pretty soon.
TAGS: YouTube Music, Google, YouTube