Flipkart Rolls Out Mobile Website; No More App-Only Strategy | TechTree.com
Flipkart Rolls Out Mobile Website; No More App-Only Strategy
Flipkart Lite has been built completely using Chrome development tools making it only available on Google Chrome mobile version as of now.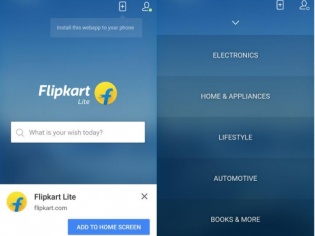 While it has been surfacing in the news about the Flipkart's app-only strategy, the e-commerce giant seems to have now launched a lighter version of the actual website for mobiles.
Christened as 'Flipkart Lite', the app-like mobile website is said to have been optimized for low-speed data connections in India. Also, the new mobile website comes with features like push notifications and home screen access which are quite similar to those found in the app.
The new mobile website is also said to have been rolled out exclusively on Google Chrome which allows users to add the website to the home screen of the smartphone.
However, the mobile browser version of the site lacks mobile app features like Ping.
[Related: Flipkart Puts Its App-Only Plans On Hold]
While this definitely looks like a good news for many of the Flipkart users who were unhappy with the app-only model, we also feel that this strategy might increase the number of Google Chrome users on mobile devices.
No need to say that, now, with only one app, Google Chrome, users can surf and also visit Flipkart while they can also buy it there itself.
It is also being said that the new mobile browser experience has been built by the company completely using the Chrome development tools.
Having said everything, while apps are to be updated frequently which is a point of cumbersome in a country like India, the mobile browser version is just a 'refresh' click away to stay updated and current.
TAGS: Flipkart, Flipkart Mobile, Flipkart Lite, Google Chrome