Indian Start-up Launches Smart Bulb; Blinks During Incoming Calls | TechTree.com
Indian Start-up Launches Smart Bulb; Blinks During Incoming Calls
The smart bulb can be controlled via a smartphone application that comes bundled with the bulb.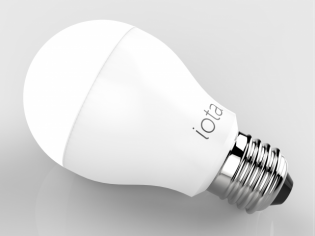 Indian start-up company Cube26 has recently launched a smart bulb which the company believes to be an entry into the 'Internet of Things' segment in the country.
Coming with a price tag of Rs 1,499, the smart bulb which the company has christened as 'IOTA Lite' comes with at least 15,000 hours of life and an attractive feature is that, users can choose among 16 million colors for the bulb.
Along with this, the key USP of the smart bulb is that, it can be controlled through a smartphone application that comes bundled with the bulb.
The IOTA Lite is said to offer 500 lumens of brightness and the company expects the bulb to change the overall lighting experience in every Indian home with a smartphone.
[Related: Google Introduces OnHub: A Smart Wi-Fi Router]
If you ask us, this smart bulb definitely looks to be an integral part of the smart home concept.
However, this is not the first company to come out with such a bulb, but, the company believes to bring around a transformation.
The smart bulb by Cube26 also comes with an interesting feature and that is the blinking of light in a certain color notifying incoming calls and SMS.
We all know that this is a very useful feature which actually alerts the smartphone users about the call or SMS even when there is a party going on in the living room.
Adding more on the smart bulb, the IOTA Lite is said to be available for purchase on Flipkart starting from Friday, Nov 6.
It is also being said that the start-up Cube26 raised Rs 50 crore in seed funding from Tiger Global and Flipkart.
TAGS: Cube26 IOTA, Smart Bulb, Startup, Internet Of Things, IoT