Review: HP DeskJet Ink Advantage 2010
Economical printer with good performance.
Rating

4
/5
14th Mar 2012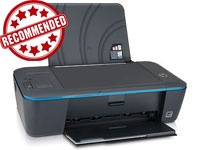 Pros:
Good overall print quality; Very good at photo-printing; Economical printing cost.
Cons:
Colour banding in draft mode.
HP Deskjet Ink Advantage 2010
MRP: Rs 3800
Street Price (As On 14-March-2012): Rs 3000 (Letsbuy.com); Rs 3200 (Naaptol.com); Rs 3500 (Infibeam.com)

Injket printers have become very affordable since the past few years. However, the main cost of operation is not the money you invest in buying the printer, but rather the amount you keep spending on cartridges. HP has tried to make things easier on your pocket through its Deskjet Ink Advantage 2010 printer, which claims to use less ink and save on printing cost. This entry-level printer is aimed at the general home user as well as SoHos. Let us find out how it performs.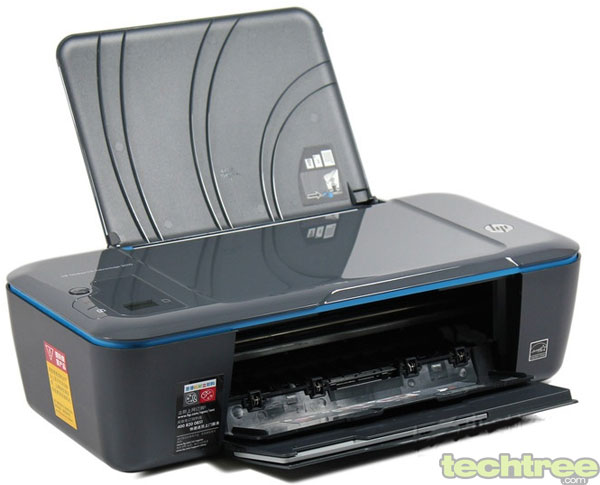 Bundle
HP Deskjet Ink Advantage 2010
Black cartridge and tri-color cartridge
Power adapter with cable
USB data cable
Quick start guide
Basics guide
Software and drivers disc
Carry bag
Polymer cover

The printer came in securely packaged, with all the necessary steps taken to keep all moving parts immobile. This makes it less prone to damage while being transported. As with traditional HP printers, this one came with every bit of accessory that is required, along with a good manual. In fact, it came with not only a polymer cover, but even a carry bag.

Design And Features
The 2010 looks sober in its grey and black body. The glossy finish makes it more likely to gather fingerprints and scratches. The design is streamlined and simple. The build seems to be rugged, while the printer itself is surprisingly light. The size is small enough to tuck it in a corner or even carry it in the provided carry bag. The folding tray allows you to store it in a smaller space, when it is not being used.

The input tray at the back of the device, which folds on top when not in use, can hold up to 60 sheets of paper. This is more than sufficient for the targeted consumer segment. The output tray is situated at the front of the device and has an extension that swings out to hold up to 25 paper sheets. Input paper is to be fed in face up with leading edge on the inside, so the print comes out with face up with leading edge out.

This device uses one black and one tri-colour cartridge. Unlike many of the devices in HP's more expensive range, this does not allow easy access to the cartridges via a side-door; instead you have to open the cartridge bay to get them replaced.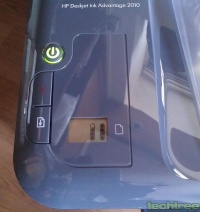 A very simple control panel is situated on the left-hand side of the unit. In addition to the backlit power button, there are controls to "Cancel" and "Continue" printing. It has a small mono non-backlit LED display with two bars representing ink levels in the colour and black cartridges. This printer has USB 2.0 interface and can therefore be connected easily to any PC.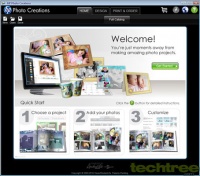 HP has provided a software control panel for tasks such as configuring printer settings, monitor ink levels, and launching additional software. The printer comes with HP Photo Creations software as an additional download. It lets you easily create and print personalized photo books, greeting cards, collages, and more. Printer drivers for Windows as well as Mac are provided. The driver interface is simple and easy to understand. You can specify many details such as the paper type and size, orientation, quality, and dpi. You can also perform maintenance tasks such as aligning \ cleaning ink cartridges and cleaning printer from here.

Performance
It took us just over a minute to get done with the complete installation, which is a really welcome change for HP printing devices, whose drivers traditionally take at least 20 minutes to install. We put the printer through a variety of tests to check its printing as well as scanning components.

Font size printing test
We printed a page containing all the letters in font sizes ranging from large to very small. The print quality at all font sizes was found to be sharp in general, with no smudging.

Text print speed
We printed a page of black text in draft and normal quality to find the speed as well as quality of the print. The first page took 6.5 seconds in draft mode and 11.7 seconds in normal, which is quite fast. The effective printing speed of 10.5 ppm in the draft mode and 6.3 ppm in normal mode are not bad.

Presentation document speed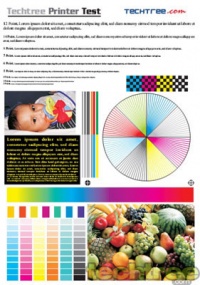 This consisted of a page of multi-coloured graphs, text, charts, patterns, and photos. The first print took just 24 seconds in draft mode, while it took 42.7 seconds at normal quality. The overall printing speed in draft mode was found to be 3.4 ppm, while it was 1.8 in normal mode. These speeds mean that this device is considerably slow in printing presentation documents. While there is no skewing , colour bands can be seen in the draft mode, but print quality is very good in the normal mode.

Photo print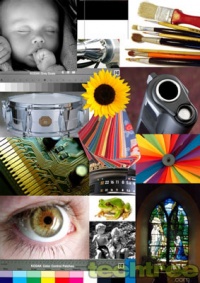 The A4-size photo took 4 minutes 57 seconds to print, which is on the higher side when compared with other printers. That being said, it is not really bad considering the fact that most people would not be printing photos very often. The image quality is exceptionally good with good colour reproduction, especially when you consider that this is an entry-level printer.

Power consumption
While it should consume a maximum of 10 W according to specifications, in reality it never crossed 5 W, thus showing very good power efficiency. It consumes a mere 1 W in the standby mode.

Our Verdict
The HP Deskjet Ink Advantage 2010 exhibits good overall performance. The print quality in draft mode is almost as good as in the normal mode, with very rare skewing. Colour printing is also decent with no noticeable smudging, making it good to print project reports and graphs. This printer is good for photo printing.

The black as well as tri-colour cartridges are available for Rs 450 each, and claim to be able to print 480 pages and 200 pages respectively, on an average. This results in very low cost per print. With a 1-year warranty, the HP Deskjet Ink Advantage 2010 is priced at an MRP of Rs.3800, but can be available for much less. It is also covered by HP's Order-a-Cartridge service which lets you have a cartridge delivered to your doorstep and is backed by a large network of HP support throughout India. For what you are getting, it is definitely worth a buy.

Design And Build: 4/5
Features: 4/5
Performance: 3.5/5
Value For Money: 3.5/5
Mojo: 4.5/5

Overall Rating: 4/5
Opinion Poll
How much would you spend to buy a new smartphone?
Below INR 5,000
17%
INR 5,000 - INR 10,000
34%
INR 10,000 - INR 20,000
34%
INR 20,000 - INR 30,000
7%
Above INR 30,000
8%
Total votes: 995