F1 2012
Almost the perfect formula, again.
Rating

4
/5
24th Jan 2013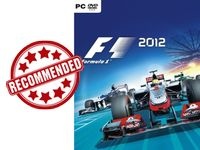 Pros:
Realistic car handling; Fantastic weather effects; Champions Mode is great fun; Gorgeous presentation.
Cons:
Uneven difficulty; None of the major flaws from last year have been fixed.
F1 2012
Developer: Codemasters Birmingham
Publisher: Codemasters
Genre: Simulation \ Racing
Platforms: PC, PS3, X360
MRP: Rs 1000
Street Price (As On 08-Nov-2012): Rs 800 (Flipkart.com); Rs 1000 (Infibeam.com)

After acquiring the Formula One gaming licence in 2010, Codemasters has steadily gone about taking the world's most expensive racing franchise from strength to strength. I was blown away by the visuals and realism of F1 2010, even though TechTree's reviewer back then didn't share my opinion. Some of you may remember that our differences in opinion led to an awesome flame war in the comments section that raged on for several months. Ah, good times. But I digress.
That winning formula was honed and refined in 2011, with the addition of safety cars and subtle differences in handling and AI. F1 2011 was widely acknowledged as the best Formula One game ever made, even though it was more evolution than revolution. F1 2012 thus has large boots to fill, and I'm pleased to report it does that with aplomb. A couple of old AI issues notwithstanding, the newest addition to Codemasters's Formula One franchise is superior to its predecessor in almost every way.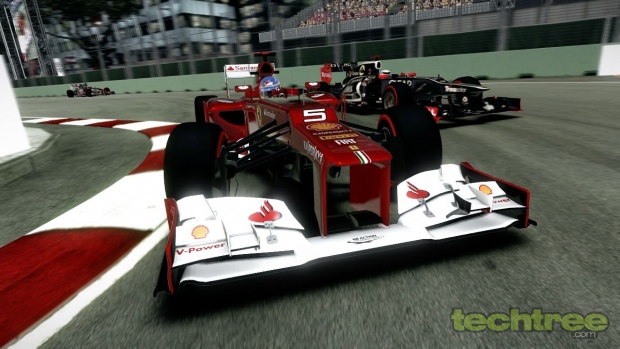 F1 2012 uses the same engine as last year, and looks just as good. Click to enlarge.
Gorgeous Presentation
One of the complaints about F1 2011 was how boring the menus were. The interface was almost identical to the DiRT series, with a first-person view of the paddock van containing various submenus From the moment you launch F1 2012 though, it's evident there's been a complete overhaul, and the menus are absolutely gorgeous. The start screen, with its low-angle visuals of a car in a wind tunnel, looks ravishing, and makes you want to jump straight into the action. The loading screens are interactive as well, allowing you to flick through in-game stats as you prepare to hit the track. Specific to the PC version, I'm absolutely overjoyed to announce that Codemasters has severed its ties with Games for Windows LIVE (the worst thing to ever have happened to PC gaming) in favour of the relatively reliable Steam. Meaning, there will be no tearing out of hairs over installing patches any more.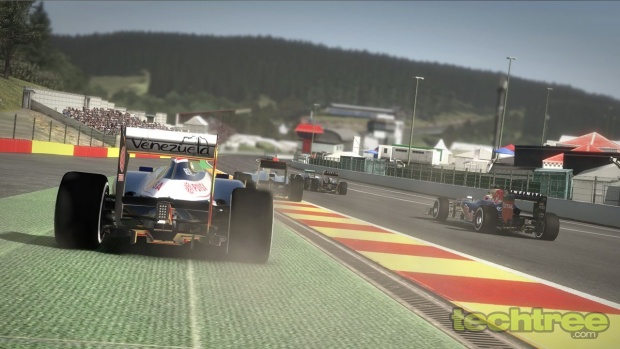 Ah Maldonado, when will you learn to stay on the track? Click to enlarge.
Qualifying Laps
Career Mode has a few nice touches, particularly the flying lap video that features test driver Anthony Davidson putting you through the paces for each track, suggesting the right lines and braking points for each corner. It's very useful information, particularly coming from a driver who's actually been on all of the F1 tracks at full tilt. The first thing you're asked to do upon launching the game is partake in the Young Driver Test, which serves as a tutorial for those new to the franchise, as well as a way for returning fans to be selected into a team the beginning of their career. You'll be put through lessons on braking, cornering, overtaking, using KERS and DRS, and also briefed on tyre and fuel strategy. My scores managed to get me a seat in Force India, and my career was soon underway. Thankfully, the game wasn't realistic enough for me to be worried about Vijay Mallya going broke.

Let me point out straightaway that if you're planning to play this game with a keyboard, don't. There's really no point to it. F1 2012 is best played with a steering wheel and pedal, or at least a gamepad. Smooth, gradual inputs are all-important, both for the steering and throttle. Also, there's no challenge if you play with any of the steering, braking, or aerodynamic assists, because you're never going to feel any of the handling realism that Codemasters has worked so hard to implement. Having said that, as an F1 purist, this is purely my personal opinion on how the title is best enjoyed, but I suppose there are plenty of people who'd rather win races without wanting to worry about hitting the right braking point or going into a spin.



I just put in a real-life F1 shot in here to mess with your head. Or did I? Click to enlarge.
Green Means Go!
After just a few corners around Australia's Albert Park circuit, I could tell the difference in handling from last year. The car felt almost completely new, in the best way imaginable. The sense of speed — especially when braking on straights from 300 kmph to 100 kmph — was immense, and for the first time ever in a racing game, I felt petrified under extreme deceleration. The cars seem to have a greater sense of weight and balance, and require smoother inputs when accelerating out of corners. Wet weather handling is as unpredictable as ever, even more so without traction control, and the new dynamic weather system leads to situations where some parts of the track are soaked while others remain completely dry. It's an incredible challenge.
When I sampled some other cars through the Quick Race mode, it became evident that the differences in handling characteristics between, for instance, a Red Bull Racing and a Force India car, are far more noticeable. Considering its championship pedigree, the former grips the track like a dream, whereas the mid-table Force India, while quick in a straight line, suffers from massive understeer while turning into corners. As a result, scoring points with inferior cars is far more difficult than last year.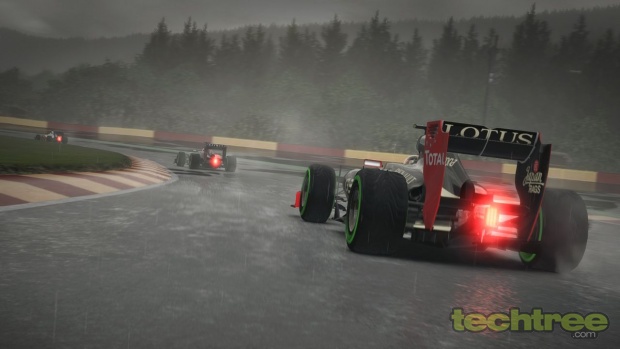 Racing in the rain is seriously difficult, especially on a drying track. Click to enlarge.
While Career mode largely stays the same, a few changes make a significant difference. For instance, in accordance with FIA regulations, you're no longer allowed to make setup changes beyond wing adjustments and brake balance after your first qualifying run, which makes testing and experimentation in practice sessions crucial. Also, R&D objectives (used in Career mode to unlock car upgrades) have been much improved, with plenty of variety this time around. Rather than simply beating a designated lap time over and over again, the objectives are different: spend a certain amount of time per lap under braking, or achieve consistent times over five laps. Fuel strategy options have been included as well, meaning you can over-fuel your car and tinker with the engine settings, or start the race with a light car but risk running out of petrol if you push too hard. Tyre wear is also more dependent on your driving style, so frequent lock-ups and late braking will lead to flat-spotted tyres and frequent pit stops.
The newest addition to gameplay is Champions Mode, wherein you take on each of the current six championship winners — Lewis Hamilton, Kimi Raikkonen, Michael Schumacher, Fernando Alonso, Jenson Button, and Sebastian Vettel — in set pieces with the objective of beat them in a few laps under their favoured conditions. For instance, in the Raikkonen challenge, you have to chase down the Iceman while dodging through back-markers, while with Hamilton, you must hang on to the race lead in the rain on intermediate tyres while Lewis hunts you down on slicks. You can probably beat all the challenges in a couple of hours, and it's nice to have these mini-games when you're not in the mood for a full-blown race.

Same Old Issues
As fantastic as everything about F1 2012's car handling and simulation is, the weakest point of the game, as it has been since 2010, is its dumb AI and infuriatingly inconsistent difficulty. It's still far too easy to start the race 18th on the grid and overtake 12 cars by the time you're through the opening corner. Obviously, if you aren't quick enough, the cars behind will soon overtake you with ease using DRS, but it's jarring to have that happen every single time. Even on the highest difficulty, your opponents seem too dumb while on the straights, and a slight line change will usually see them spinning off into retirement in almost Burnout-like fashion for no apparent reason. That being said, it's nice to see that different drivers have different levels of aggression this time. For instance, Pastor Maldonado will be more likely to try a crazy manoeuvre and out-brake himself than say, Mark Webber.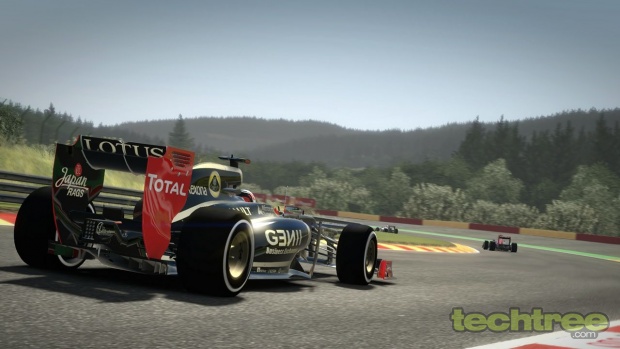 Taking Eau Rouge at 300 kmph is terrifying, even for a video game. Click to enlarge.
Coming to the difficulty levels, Intermediate is way too easy, while Professional is a great challenge on some circuits, downright impossible on others, and ridiculously easy on the rest. What's strange is that the scaling of difficulty only seems make all opposing cars faster by two seconds per lap with each increment, which is just a stupid idea. This applies to Champions mode as well, where it's downright impossible to chase down Kimi at Spa Francorchamps on the hard difficulty level, but a walk in the park to hold back Lewis at Interlagos. Continuing from last year, the Legend level is next to impossible. Even after nailing every single corner and braking point with a McLaren, I found myself qualified next to Narain Karthikeyan on the second-last row of the grid. Maybe I'm doing something wrong, but I think it's a crying shame that the difficulty hasn't been balanced out even after two years. While not a complete deal-breaker, it's definitely a big minus.

AI and difficulty issues aside, F1 2012 is a fantastic product. With the assists turned off, it's one of the most intense and realistic racing experiences you can hope to find. If you're a fan of Formula One, expect to spend hours in Career mode working your way up to that fabled Driver's Championship. I couldn't recommend it more. Arcade enthusiasts though, please excuse. Check out the gallery below for more screenshots.

Gameplay And Design: 4/5
Graphics: 4.5/5
Sound: 4/5
Mojo: 4/5
Overall Rating: 4/5

Played On: AMD Phenom II X6 1090T, Asus GTX 670 DirectCU II 2GB , G-Skill Ripjaw Series 4 GB RAM, ASUS Xonar Essence STX sound card.
System Requirements: Intel Core2Duo 2.4 GHz \ AMD Athlon X2 5400+, 2 GB RAM, AMD HD2600 \ NVIDIA GeForce 8600, 15 GB HDD space, Dual-Layer compatible DVD-ROM drive, Windows Vista.
Recommended System: AMD Bulldozer \ Intel Core i7, 4 GB RAM, AMD HD6000 \ NVIDIA GeForce GTX500, DirectX compatible sound card.
TAGS: Gaming, PC Games, Transportation, Sports, TheBanat