Review: WickedLeak Wammy 7
A decent 7" Android 4.0 tablet for budget buyers.
Rating

3.5
/5
14th Jan 2013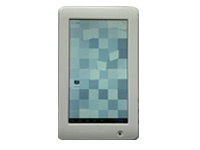 Pros:
1080p video playback; Supports external USB drives (OTG capable); HDMI-Out.
Cons:
Reflective screen; Limited viewing angles; Mediocre build quality.
WickedLeak Wammy 7
MRP (As On 3-Jul-2012): Rs 5800 (Rs 250 extra for one-year warranty)


A new domestic player, WickedLeak has entered the tablet arena with its pocket-friendly Wammy 7. Despite being an entry-level tablet though, it comes with Android 4.0 (ICS) and a plethora of features, including HDMI-Out and 1080p video playback. The Wammy 7 looks promising on paper, but is it really better than the competition? Let's find out.


Design And Build Quality
The retail package includes the tablet, charger, mini-USB cable, and a pouch. The gadget is made of glossy plastic, with a cheapish feel to it. Like most low-end Android tablets, this one too makes a creaking sound when pressed. True, you can't expect great build quality at this price tag. However, there are cheaper and more robust tablets in the market, such as the NXG Xtab A10. Overall, this is just another Android tablet with nothing special in the design and build quality departments.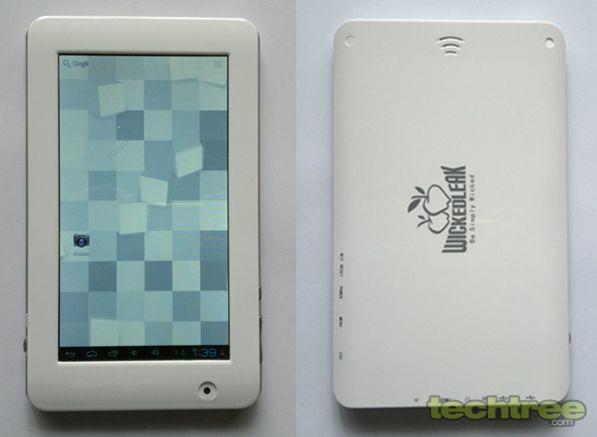 The device's 7" capacitive touchscreen has pixel dimensions of 800x480. The display is sharp and bright, but colour reproduction isn't up to the mark. The biggest downer though is the reflective nature of the panel, which makes it almost useless under sunlight.

The tablet is powered by a 1.2 GHz CPU coupled with 512 MB of RAM. Other specs include:
4 GB of internal memory and a microSD card slot
Front VGA camera
Wi-Fi, 3.5 mm jack, mini-USB port, and HDMI-Out
3000 mAh battery
There's also a full-sized USB port that supports a few 3G dongles — no list provided, so you'll just have to check for yourself the first comment below details the list of USB internet devices that are supported by the tablet; thanks to the WickedLeak team for this info. Similar to most low-cost Android tablets though, the company has done away with the rear camera and Bluetooth.


UI And Performance

On the software front, the tablet runs Android 4.0 (Ice Cream Sandwich) out of the box. Thanks to its clean interface, the Wammy 7 offers a decent Android experience. It does feel sluggish at times though, especially when you have three to four apps running in the background. Popular games such as Fruit Ninja and Angry Birds work without any stutter. Having said that, the latter did crash a few times during use.

The onboard browser supports Flash and is capable of handling web videos. However, it tends to become quite sluggish while rendering script-heavy websites (including TechTree.com). Using the front-facing VGA camera, you can make video calls using third-party apps such as fring and Skype.


Multimedia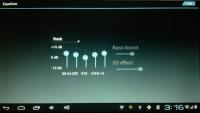 The Wammy 7 supports the MP3 and WMA music formats. Its sound quality through the earphones is good, considering its price tag. Equaliser settings have been duly covered, along with a couple of sound effects to boot. Since the tablet lacks a physical volume rocker, you're left with only the onscreen volume controller. This will doubtless be an annoyance for many users.

Coming to the subject of video playback, the Wammy 7 had no problem handling MP4, DivX, XviD, and MKV files up to 1080p. Additionally, the HDMI port allows you to hook up this tablet to your HDTV. Bring out the popcorn!


Battery And Verdict
The 3000 mAh battery can keep the device powered on for about eight hours, which drops to 3.5 hours under heavy use (playing 720p video).

For around Rs 6000, the Wammy 7 offers a good number of features, such as an HDMI port, 1080p video playback, and a decent ICS experience. On the other hand, its mediocre screen and build quality are nothing to write home about. Although this tablet isn't bad, I recommend you go for the NXG Xtab A10 instead. If you do decide to buy the Wammy 7, make sure you add the one-year warranty option to your cart, since the default price comes without any warranty at all. Taking into account the fact that it originates from a Chinese sweatshop (probably using prison labour WickedLeak has contacted us to state that they categorically do not employ prison labour. We believe them :) ), chances are good that you will need some form of insurance.


Features: 4/5
Design And Build Quality: 2.5/5
Performance: 3.5/5
Value For Money: 3.5/5
Mojo: 3/5

Overall Rating: 3.5/5
Opinion Poll
Following the battery debacle, would you still buy the Samsung Galaxy Note 7?
Yes
43%
No
47%
Maybe
10%
Total votes: 3927