Samsung Galaxy S5 To Be Priced At Rs 51,500 In India
No surprises here. The pricing is in line with what Samsung had announced when it unveiled the phone in India.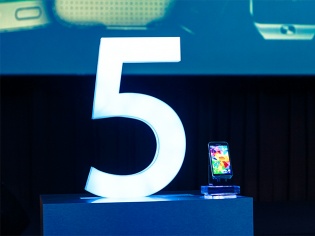 Samsung has confirmed that its all new Galaxy S5 will be priced at Rs 51,500 in India, which according to NDTV Gadgets will be the best buy price for the all-new flagship smartphone.
The South Korean giant had earlier confirmed that the phone will cost between Rs 51,000 and 53,000 in India, with the exact pricing being revealed ahead of the scheduled April 11 launch.
Earlier today @MAHESHTELECOM shot out a tweet claiming that the Samsung Galaxy S5 would retail at an MRP of Rs 54,300, while the MOP (Maximum Offering Price) would be Rs 51,500. It is to be noted that Manish Khatri (who's twitter handle it is) had mentioned that the phone would sell at Rs 51,500 before its initial unveiling.
#GALAXYS5 MRP ₹54300, MOP ₹51500 ,our price ₹49990/- (20%cash back offer on citi cards*) http://t.co/CVgORyzHPK

— Manish Khatri (@MAHESHTELECOM) April 7, 2014
Unlike the S5 showcased at the Mobile World Congress, the phone in India will not be powered by the Qualcomm Snapdragon 801 octa-core processor, but instead by Samsung's own Exynos octa-core chipset. Going by the name of Adonis Prime2, the chip uses four cores clocked at 1.9 Ghz, while the other four are rated at 1.3 Ghz.
Moreover, Samsung also announced that unlike the Snapdragon 801 powered handsets which will be sold globally, the S5 sold in India will only offer 3G connectivity and will lack 4G LTE capabilities.
Along with the Galaxy S5 the company also debuted three new wearable devices – the Galaxy Gear Fit, Gear 2 and Gear 2 Neo. The latter of the two devices went on sale in India today and are priced at Rs 21,550 and Rs 15,450 respectively.
TAGS: Mobile Phones, Android, Samsung, Galaxy S5