Tata Sky Unveils Video On Demand
Bid goodbye to missed shows.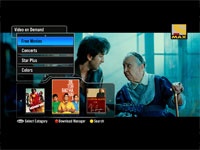 DTH provider Tata Sky has launched a new Video on Demand (VoD) service, a first from any Indian DTH provider. The service will let you catch up with the missed episodes of your favourite soap. Subscribers of its Tata Sky + HD have already been able to record contents in their absence to do the same, but this unique service does not require recording to the DVR's hard drive.

The service includes Catch Up TV and VoD Movie Library. The former allows Tata Sky + HD subscribers to watch shows they missed, after their broadcast date and time. Shows can be selected and downloaded from the Tata Sky server as per the requirement and watched later. At present, this service provides the top shows from channels such as Star Plus, Colors, SAB TV, NDTV, Sony Entertainment, Channel V, etc.

VoD Movie Library contains an assortment of old and new movies that will soon be available to the subscribers. The company plans to host over 1000 high quality movie titles across different genres and languages. Please note that this service is available only to Tata Sky + HD subscribers because the content needs to get downloaded to a hard drive. The set top box needs to be connected to an Ethernet cable with a broadband connection to use this service. The STB menu will be updated with new VoD options to start using this free service.