Download: Blink (Windows Phone 8)
Microsoft Research team brings camera burst shot functionality to Windows Phone 8 devices.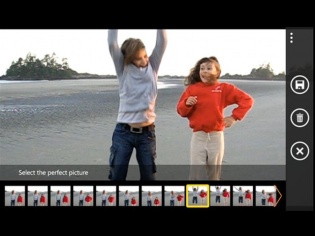 Microsoft Research, the team behind popular apps such as Face Swap has rolled out a new camera software called Blink. This app allows you to take multiple shots within a couple of seconds. After that, you can swipe through the resulting images, and save the one you like. In simple words, it's much like the burst mode seen on most high-end Android phones. The developer also claims that they've implemented image stabilization technology to compensate for camera shakes.

The same functionality was already there in Nokia's Smart Shoot lens, but since that app is Lumia exclusive, it was up to Microsoft to bring this functionality to all WP8 devices. The developer has also put up a video to demonstrate exactly how this app works, which you can see below. If you'd like to explore some more interesting WP8 camera lenses, follow this link.

Developer: Microsoft Research
Size: 1 MB
Platform: Windows Phone 8.
Price: Free
Download: www.windowsphone.com/en-in/store/app/blink/3e185ac7-2d21-4a74-9cad-3d4729509446
TAGS: Apps, Downloads, Windows Phone