Rejoice! First Untethered Jailbreak For iPhone 5 And iPad mini Released
evasi0n requires older iDevices to be upgraded to iOS 6.x before being applied.
The hacker group known as evasi0n has finally announced a jailbreak for iOS 6.x devices as it had announced last week. It therefore becomes the only application that can currently jailbreak the iPhone 5, iPad mini, and basically any device running iOS 6.x. iDevices running older versions of iOS need to be upgraded to an iOS 6 variant. We assume that by now, you already know what a device jailbreak means. For those who don't, it means a way to circumvent some restrictions placed by Apple to be able to sideload apps. Sideloading means the ability to install apps from unofficial channels — the official channel being only the Apple App Store. While it lies in the borderline grey area because it becomes possible to install illegal apps and may void device warranty, it is nevertheless a popular way of freeing the device from the shackles placed by the company.
To install the jailbreak, you need to go to the evasi0n website and download the jailbreak installer for your desktop platform. It is available for Windows (XP and above), Mac OS X (10.5 and above), and Linux x86/x86_64 (Kernel >= 2.6.24, libgtk+-2.0 >= 2.24.13) and at under 10 MB, is pretty small a download. Users need to connect your iDevice to your computer using its USB cable and backup their data via iTunes, or wirelessly to iCloud so that you can recover the data if something goes wrong. Lock passcode for the iDevice, if any, needs to be disabled. After that, the user can launch evasi0n, click on the "Jailbreak" button, and observe the progress as well as watch for any steps that are asked of you to be performed. And that is all there is to it. There are a few positive tweets that state that it is a very clean process and retains all the apps, data, contacts, pictures, and even text messages.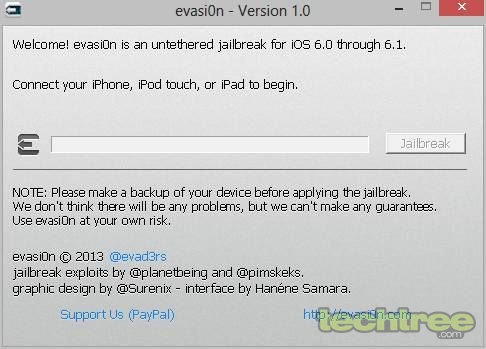 In case you are wondering, this is an untethered jailbreak, which means that you only have to run it once. On the other hand, a tethered jailbreak remains active as long as a device is not rebooted, requiring it to be applied again when the device restarts. So when are you planning to jailbreak your iDevice?