JBL J-Series Headphones Launched By Harman For Starting Price Of Rs 4500
Comes with or without microphone; claims "professional-grade audio" on a budget.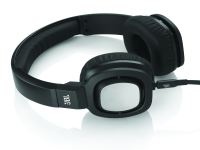 Harman International has two new headset models under the JBL brand in India — the J-Series J55 and J55i. The company says these on-ear headsets with a closed-back design are fabricated using premium materials. The headband and ear cup cushion are padded and lightweight, so they're likely to be comfortable. For aesthetic appeal, JBL has used brushed stainless steel earcups and headband accents on these models. The company claims that the high-quality 40 mm drivers deliver clear sound with rich bass.
The pivoted cans can be rotated 180 degrees, which gives DJ-like style and functionality: You can leave one ear free even with the headset on. Both models feature an elastomer cable with a gold-plated 3.5 mm audio plug for clean signal transfer. Here are the specifications common to the J55 and J55i:
10 mm on-ear drivers with closed-back design.
Frequency Response: 10 – 24000 Hz.
Impedance: 40 ohms.
180-degree rotating DJ-pivot mechanism.
1.3 m detachable flat elastomer cable with gold-plated 3.5 mm audio plug.
Cable-locking mechanism.
In-line Apple remote with microphone (J55i only).
The J55 and J55i are essentially the same, except that the latter comes with a microphone and a three-button Apple remote on the 1.3 m detachable cable. We think the microphone should give it hands-free functionality with the iPhone, although the press release is not clear whether this is extended to PC or to other handsets. The JBL J55 and J55i are available in orange-white, grey-white, and black; they are priced at Rs 4500 and Rs 5500 respectively. We think this pricing is decent, provided the performance is as claimed.
TAGS: Headphones, Jayesh