Google Plans To Hire Youth In J&K
Aims to make available better career opportunities for local talent.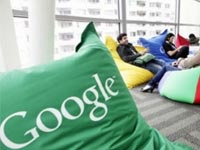 While our neighbour is busy in its drive to lure the youth from the troubled Indian state of J&K for subversive activities, Google is flying an 8-member team led by Mary Himinkool, Head of Google's Global Entrepreneurship Outreach Division, to help local talent explore earning opportunities using the company's tools and expertise. The team, comprising members from California-based Google's software development team and new business development team in addition to YouTube, will work with Mercy Corps, an American charity during its 5-day visit. It will organise a series of interactive sessions with potential entrepreneurs, students, businessmen, marketers, techies, developers, publishers, content owners, and internet enthusiasts, in addition to telecom operators, IT faculties of various institutions, and internet service providers to understand the system and chart the plan.

Mercy Corps' Usman Ahmad said, "The response was great. We are booked to capacity. There are hundreds of youth who want to be part of the sessions but we lack the capacity now". The seats were available for free online booking on a first-come-first-served basis. The event website g | Kashmir mentions that the participants will be equipped with technical and non-technical content, including useful tips and information on the latest Google products. They will also be taught about the company's business-focused tools. The itinerary for the November 3 workshop to be held from 10 am to 5 pm is published on the website. It also mentions about three tracks; one for entrepreneur mentorship, second is a technical session for techies and developers, and the third is to help anyone who wants to use Google's tools to earn money online. Each of these tracks will feature Q&A sessions. This will be followed by panel discussion with the Google team to help make career decisions. 50 volunteers from Kashmir University and other institutions will also share their expertise.

Mercy Corps has been actively encouraging social entrepreneurship in the state since the last couple of years. It aims to achieve more this time by joining hands with Google for the cause. The NGO and Google are already running similar programmes in other troubled parts of the world, such as Palestine and Kenya. The programme is therefore being seen with high hopes by the people of the state.