SanDisk Launches ReadyCache 32 GB SSD For Rs 3800
Works along with regular hard drives, claims to boost application performance by 12x.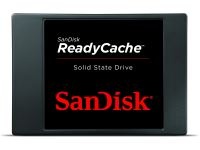 SSDs have always been considered an expensive storage proposition, suited only for enthusiasts and gamers. They are tremendously fast, but not as capacious as regular hard drives. SanDisk has attempted to bring together the best of both worlds with the ReadyCache solution, which promises SSD-grade performance at a relatively low price. This is a 32 GB 2.5" SATA 6 GB/s SSD meant to be installed alongside the regular hard drive on a desktop computer. SanDisk claims this will improve boot times by 4x and application launch times by 12x. The power consumption of the ReadyCache drive is also quite low — just 0.5 W.
Along with the drive, users need to install the ExpressCache software by Condusiv Technologies, which can be downloaded for free from the SanDisk website. The SSD and software work together in the background to improve performance by placing frequently used files on the SSD cache. This data also resides on the primary storage, so there is no data loss in case the caching is uninstalled. It is easy to set up the system, because it does not disturb your existing OS installation.
The SanDisk ReadyCache SSD comes with a SATA cable and brackets to mount it in a free 3.5" drive bay. It comes with a three-year warranty, and is available in 32 GB capacity at an MRP of Rs 3800. That is not exactly inexpensive — a regular 500 GB hard drive costs about the same, so the ReadyCache is essentially a speed booster.