Download: Pinterest (Android, iOS)
The pin board style photo-sharing social network finally debuts on mobile platforms.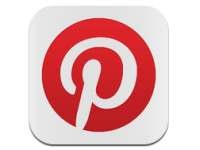 Last week, the popular photo-sharing social networking website Pinterest ditched its invite-only model and opened its service to everyone. Reports suggest that the service currently has over 18 million registered users, and is growing at a rapid pace. The website has now taken its effort to reach a wider audience one step further by letting users stay connected on the move via dedicated apps for the Android and iOS platforms.
For the uninitiated, Pinterest lets you "pin" images to the site, like how you would pin pictures to a softboard, based on categories that interest you. It boasts of catering to diverse interests, such as architectural wonders, recipes, home improvement tips, gadgets, fashion, and a whole lot more. You can "repin" images pinned by other users to your virtual pin board as well. Check out the gallery for more screenshots.

Developer: Pinterest, Inc
Size: 4.6 MB - 18.5 MB
Price: Free
Platforms: Android, iOS
Download: Android - play.google.com/store/apps/details?id=com.pinterest
iOS - itunes.apple.com/in/app/pinterest/id429047995