LatestOne.com Launches PTron USB Raja At INR 599
Connect it and do wonder like charge your smartphone, transfer data from pen drive, connect keyboards or mouse, etc.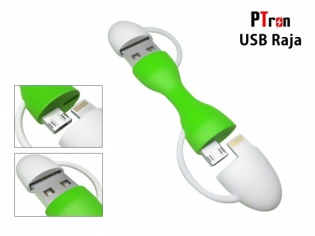 LatestOne.com has recently announced the launch of PTron USB Raja, which is a unique product that is specifically design for multitasking right in your pocket.
PTron USB Raja comes with a lightning connector and a reversible micro USB connector enabling you to charge an iPhone and an android smartphone simultaneously with a single power-bank outlet.
You can also connect PTron USB Raja to an OTG supported smart phone to charge an iPhone.
The device also comes with a female USB port to connect pen-drives to your OTG supported phone to read & write data onto the pen-drive. You can also connect a USB dongle in the port to use a wireless keyboard or mouse with your OTG supported smart phone.
Also Read: LatestOne Launches PTron Gusto Power Bank At INR 599
The newly launched device by PTron is exclusively available on LatestOne.com and at a reasonable price tag of INR 599.
Here's a video by LatestOne.com explaining how this new USB Raja works:
Recommended: Top 5 Pocket Friendly Virtual Reality Headsets
TAGS: LatestOne, PTron USB Raja