Angry Birds Rio Airfield Chase Now Available
New update has 15 levels.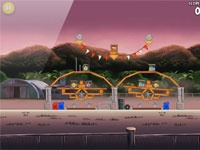 Fans of the popular game Angry Birds Rio are in for a treat. Rovio has made available, an update for the iOS game known as Airfield Chase. This is update adds 15 new interesting and challenging levels to the Airfield Chase section.

The update is available for Angry Birds Rio as well as Angry Birds Rio HD. Rovio had released Angry Birds Rio early this year. The game became a rage and now includes five completed sections: Smugglers' Den, Jungle Escape, Beach Volley, Carnival Upheaval, and Airfield Chase. One more final update with a whole new section consisting of 30 levels is expected at a later date.

For those who are yet to get addicted, Angry Birds Rio Free and Angry Birds Rio HD Free are currently available as freeware games. The updated full versions of Angry Birds Rio and Angry Birds Rio HD can be bought and downloaded from the iTunes Store at $0.99 (Rs 49 approx) and $2.99 (Rs 147 approx) respectively.

TAGS: Gaming, Angry Birds, Jayesh