Review: Zebronics 2.1 Multimedia Speakers (ZEB - SW3200RUCF)
Goes well with creepy movies.
Rating

3
/5
26th Feb 2012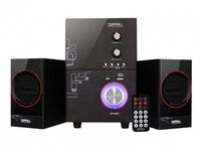 Pros:
Memory card and thumb drive support; Ships with a remote; Comes with FM radio.
Cons:
Terrible sound quality; Short cables.


Zebronics 2.1 Multimedia Speakers (ZEB - SW3200RUCF)
MRP: Rs 2250
Street Price (As On 25-Feb-2012): Rs 1850 (BuyThePrice.com)



When buying low-end speakers, most people don't bother about audio quality - they just want these sets be loud and packed with features. Needless to say, Zebronics wants to target this type of audience with its 2.1 sound system. To sweeten the deal further, the ZEB - SW3200RUCF sports an MP3 player that can read thumb drives and memory cards.




Design And Build Quality

The design seems OK, but I think that it would have looked better without the red ascents. Additionally, the flashy LED ring around the volume knob will draw extreme reactions. Coming to the subject of build quality, the MDF (Medium Density Fibreboard) enclosures are well made. The sub-woofer is heavy for its size, which is a good sign since this generally results in tighter bass. Both the satellite speakers sports a simple design, and are devoid of any button or knob. On the flip side, the speaker cables are short, which means you can't place the speakers away from the sub-woofer.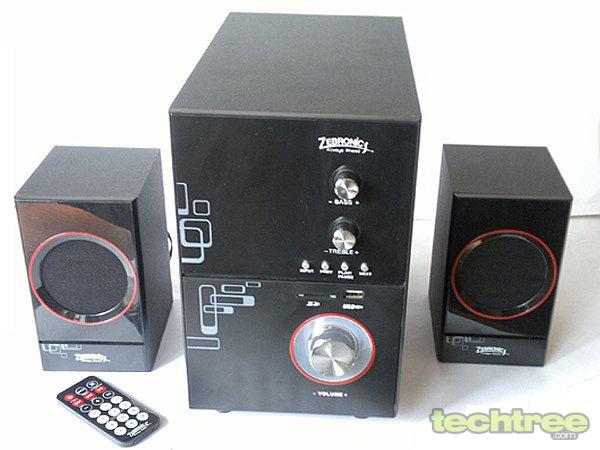 Performance

It's quite difficult to deliver good sound at this price point, and Zebronics is not even trying. As expected, the sound quality is mediocre at best. Considering the device's cost, the mids are OK and the system is quite loud. For the technically inclined, it has the output power of 44 W RMS (20W + 12W x 2). However, the bass is terrible, and you can sense distortion even at low volumes.

 The speakers are no good for music. On the bright side though, this distortion works in favour of creepy movies.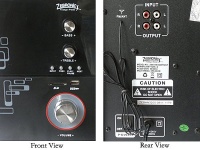 To make up for the lack of sound quality, Zebronics has thrown in quite a number of interesting features. For starters, you get FM radio. What makes this set special, is the USB and SD card support. Just plug in your thumb drive or a memory card, and you're all set to play your favourite tracks. The device supports MP3 and WMA formats, but FLAC files are a no-go. The company has been generous enough to ship a remote controller. Sadly, it is as useless as our prime minister.




Verdict

This 2.1 set from Zebronics is a mixed bag. It impresses with features such as the USB thumb drive and SD card compatibilty. Since something is better than nothing, even the terrible remote comes as a welcome addition at this price tag. Sadly, the speakers lose out on its primary objective of delivering good quality sound.

This leads to the following conclusion: If you're looking for speakers with a media player, then consider buying this thing. Those looking for a decent sound quality are better off with Philips SPA2341 (Rs 1800) or Sony's SRS-D4 (Rs 2000). Lastly, if you can stretch your budget up to Rs 2700, grab the Philips DSP2500 instead.


Features: 4/5
Design and Build Quality: 3/5
Performance: 2/5
Value: 3/5
Mojo: 2.5/5

Overall Rating: 3/5