Review: Corsair Gaming Audio Series SP2200
Hopeless for music, but good for movies and gaming.
Rating

3.5
/5
06th Jan 2012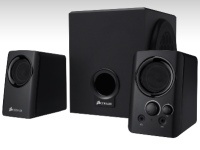 Pros:
Quite loud; Good imaging; Wide soundstage
Cons:
Not meant for music; Lacklustre subwoofer; Headphone out suffers from crosstalk

Corsair Gaming Audio Series SP2200 2.1 PC Speaker System
MRP: Rs 5000

After its debut in the audio segment last year, Corsair has churned out some middling headphones and equally mediocre 2.1 channel speakers in the short span of its existence in the audio realm. Therefore, it's only apt that I received the Corsair SP2200 2.1 Speaker System (hereafter referred to as SP2200) for review. Priced at Rs 5000, the 2.1 channel system targets the epicentre of all things mediocre - the budget speaker segment.


Design And Build Quality
Specification-wise the speakers sound quite promising. The entire system boasts of 46 W RMS power, with the active subwoofer accounting for 30 W and the satellites receiving 8 W each. That's more power than what you get from the Logitech Z523 speakers, which are dearer by Rs 1300 despite sounding rather terrible. The SP2000's subwoofer sports a relatively large 6" side-firing driver concealed behind a grille. Its front-ported nature makes it easy to position, as long as you keep the woofer facing away from the wall to tone down its boominess.
The build quality on the compact sub isn't exactly top-notch. A sharp knock on the enclosure reveals a hollow ringing sound, which points to weak structural integrity and a lack of proper bracing. It is surprisingly light despite its size, especially since it houses an amplifier as well. This isn't a good thing, so it would be naive to expect any aural tightness from the sub. The SP2200 draws power through an external power brick. Thankfully the cables are long enough for typical desktop usage.


The side-firing sub is lightweight and lacks requisite structural rigidity.
The satellites are fashioned from an equally resonant plastic enclosure, which may be bad acoustically, but it sure looks well finished. Each one features a 2" full-range paper driver with durable rubber surrounds. Heck, Corsair even includes removable grilles, which is unheard of at this price range. The right-hand-side satellite hosts two analogue rotary knobs for volume and subwoofer level adjustment, in addition to an auxiliary input and a headphone jack. The speaker includes another auxiliary input through stereo RCA ports on the subwoofer.


The rear panel includes an additional auxiliary input.
The 3.5 mm TRS jack produced unacceptable levels of stereo crosstalk though. If this problem isn't isolated to the review sample, the headphone jack is better used as a toothpick holder instead. The satellites occupy a very small footprint and are angled upwards to compensate for the low height of a typical desktop. On a positive note, the design and build quality is better than most budget speakers in this price range.


Performance
The speakers were put through the paces with audio routed from the Creative SoundBlaster Audigy 2 Platinum soundcard, fed with 24-bit/96 Khz FLAC content through kernel streaming mode in foobar2000 audio player. If you have read through my Speaker and HTS buyer's guide, you are already aware how futile it is to expect good music performance from a 2.1 audio system.

As expected, the boominess of the subwoofer is too overpowering, unless the sub level is toned down to the 10 o'clock position. Even then, the bass is too muddled and inaccurate, which is made worse by a hint of cabinet resonance. Carla Lother's 100 Lovers brought the sub down to its knees. Toning the subwoofer down to near-silence was the only way to make it bearable.


The satellites house 2" drivers protected by detachable grilles.
Full-range drivers employed on satellite spakers is never a good idea. This is especially true when a good chunk of the low-end and mid-bass is entrusted upon the subwoofer. There's no way to tell the exact crossover point, but it doesn't really matter if the sub or the satellites are to blame. Ultimately, you have to contend with a lacklustre mid-bass, which means stringed instruments such as cellos and pianos lose their percussive feel.

On their own, the satellites deliver a near balanced tonality, with a slight treble heaviness that isn't really bothersome. The sound isn't too coloured, as long as you keep the subwoofer on a tight leash. This means, vocals sound good, which is a welcome change considering its peers. The speakers did not dig out a lot of detail from my test suite, but what's offered was nonetheless quite decent for the price. The satellites however perform well with the highs, which translates into crisp cymbals. The upper ranges of the frequency spectrum thankfully aren't rolled off to a great extent.

The SP2200 is well suited for gamers, thanks to good imaging and a wide soundstage. I know because these puppies conveyed the positions of sneaking zombies in Dead Island with enough accuracy to save my butt on a regular basis. The sub may not be accurate, but it is loud. This makes these speakers ideal for watching movies. A good treble performance and decent mids also make dialogues crisp and easily discernible. The integrated amplifier is good enough to handle transients found in action-packed blockbusters. At higher volume levels the satellites lose their tonal balance, but they don't distort much. Just keep the volume knob in check unless you prefer the subwoofer sputtering along.


Although muddled, the 6" woofer still packs a punch.
Conclusion
The SP2200 offers good value for the price and performs all tasks expected from a budget system. It would be unfair to expect stellar music performance from a cheap 2.1 system. The speakers reaffirm that logic with a mediocre showing in the music department. However, this system is best considered as a cheap desktop solution for gaming and movies, where its loudness and good positional accuracy proves to be a boon.

However, if its music that you are interested in, I recommend putting Rs 4500 more and settling for the sublime Audioengine A2 instead. In case you are on a tight budget and don't mind deviating from speakers altogether for a brilliant alternative for music, you are better off shelling a few hundred bucks extra for Alessandro Grado MS1i headphones instead.


Performance: 3/5
Design and Build Quality: 3.5/5
Features: 3.5/5
Value: 4/5
Mojo: 3.5/5

Overall Rating: 3.5/5

TAGS: Speakers, Gaming, Corsair, Nachiket