Microsoft Unveils Its Quad-Core Budget Hero, The Lumia 530
The device will cost €85 (approximately Rs 6,900) before taxes and subsidies, and will be rolled out globally in August.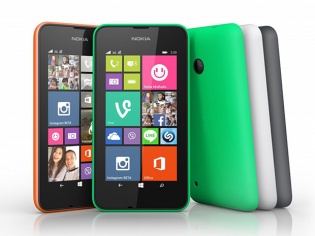 Microsoft has unveiled its latest low-cost Windows Phone device, the Lumia 530, and at €85 (approximately Rs 6,900) its a bargain. Successor to the Lumia 520, the device will have the hard task of replacing the best selling WP device in the world, but thankfully Microsoft has stuck to a very similar equation.
The Lumia 530 runs on Microsoft's latest version of of Windows mobile OS, bringing along with it several new features such as the Action Centre and Cortana. The device is powered by a 1.2GHz quad-core Snapdragon 200 processor that is coupled to 512MB of RAM.
In fact, the specifications of the Lumia 530 are similar to that of the budget Android champion Moto E, which uses the same processor albeit with double the amount of RAM. That however shouldn't dampen the Windows experience, as the software is just a lot less taxing than Android, meaning apps should run perfectly.
Like its predecessor the Lumia 530 will come with a 5MP camera at the back with no flash module. Storage memory stands at a measly 4GB, but users can take advantage of the 15GB of free storage Microsoft is offering on OneDrive and also the microSD card slot.
The 530 features a 4-inch display, meaning the phone is a lot more compact than most of the other new devices on the market. This should please people with tiny hands or those who in general hate large screened devices. Like the Lumia 630 the phone ditches the capacitive touch buttons for on-screen ones.
Being a Lumia, users can swap out the back covers of the 530, with a range of bright colours to choose from. The Lumia 530 is typical of a Nokia (now Microsoft) device, but the only grouse we've got is its small 1,420mAh battery, which we think might not be able to get it through a full day on a single charge.
The Lumia 530 will be available in two variants, a dual-SIM variant as well as one with support for just a single SIM. No news on the specific launch date has been given out yet, but a global roll-out is bound to take place in August.
TAGS: Microsoft, Lumia 530, Windows Phone, budget smartphone