SanDisk Launches 128GB MicroSDXC Card For All Your 4K Memories
With higher quality photos and videos comes the need for faster and spacious memory cards.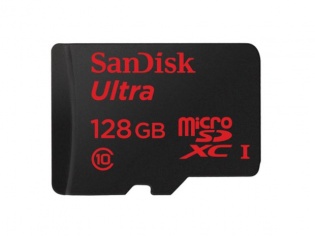 SanDisk Corporation has finally launched the 128GB SanDisk Ultra microSDXC UHS 1(Class 10) card designed to be used with today's smartphones and tablets. The card was announced sometime back at the Mobile World Congress (MWC) and is now available for sale in India for a price tag of Rs 9999.
The card comes with a smart OptiMem app which automatically detects when the internal memory is getting full and smartly transfers data to the external memory card. Apart from that, the card offers up to 30MB/s read and write speeds which are ideal for today's 4K capable mobile devices that seem to be growing in number.
The card combats one of the biggest hurdles of 4K adoption on smartphones today, which is space. 4K video recording indeed delivers the best quality in terms of sound and images but will eat up space on your device quicker than anything else. SD cards do help and SanDisk seems to have given hope for mobile users.
But that hefty Rs 10,000 price tag will certainly not find too many buyers except for those who must have the latest and greatest in their pockets or for those who simply do not want to compromise on quality when it comes to photos and videos.
Either ways like it or not, with mobile phones adding RAW support for images and games easily crossing the 1 GB limit, there will definitely be more requirements for space. This becomes more valid when it comes to Android devices that keep up with the latest hardware; meaning that your older memory card may not always the suitable choice for your shiny new 4k capable phone.
The 128GB SanDisk Ultra microSDXC UHS-I memory card will be available in stores sometime in May.

TAGS: expandable memory, Hardware, Mobile Phones, Tablets, SanDisk