LG Unveils Optimus Pad LTE
Powerful Android tablet packs in HDMI port and memory card slot.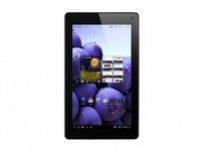 LG has announced its first LTE (4G) tablet, the Optimus Pad LTE. The device will be based on Android 3.2 (Honeycomb), and will feature the company's True HD IPS display technology.

Reportedly, the gadget is powered by a dual-core 1.5 GHz CPU. Its 8.9" screen has pixel dimensions of 1280x786. Other features of the tablet include an 8 MP camera capable of 720p recording, HDMI port, DLNA compatibility, and a 6,800 mAh battery. Although the Korean manufacturer has mentioned an SD card slot, it probably means microSD. The tablet measures 9.6" (l) x 6" (w) x 0.4" (9.3 mm) (d), and weighs nearly half a kilo.

According to LG, the gadget will come preinstalled with image and video editing software. The Optimus Pad LTE will initially be launched in Korea, but is expected to be gradually made available in other markets. As of this writing, the company hasn't revealed details on its pricing.