Download: Angry Birds Star Wars II (Windows Phone, iOS, Android)
Play like a Pork, or fly with the Birds.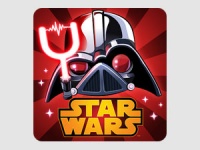 For the longest time, people would switch to smartphones just to play Angry Birds (and Fruit Ninja). After countless spin off, rehashes, and sequels the franchise just refuses to die. Taking its Angry Birds Star Wars episode ahead and picking a card off its Bad Piggies game, Rovio has finally released the sequel to its space odyssey. The second instalment of the Star Wars game lets you play either from the Pork Side (Dark side) or the Bird side (Light Side). There is something called as physical telepods, that let you change in-game characters. There will have to be purchased separately though. Get all the details here.
Also, this time around, the game graced the WP8 platform well before the Android and iOS repositories. Before you head over to get a slice of the game, check out the gameplay video below.
Publisher: Rovio Entertainment Ltd
Price: Rs 55 (Rs 67 on Android)
Platforms: Windows Phone, iOS, Android
Download URL:
Windows Phone - http://www.windowsphone.com/en-in/store/app/angry-birds/5026b325-f461-4a4a-9ff9-4a5de698d58a
iOS - https://itunes.apple.com/in/app/id645859810
Android - https://play.google.com/store/apps/details?id=com.rovio.angrybirdsstarwarsii.premium
TAGS: Internet, Gaming, Angry Birds, Android, iOS, Windows Phone