An 84" TV From Vu Can Double Up As A Touchscreen Computer
3D TV comes with a 500 GB hard drive and customisable OS options.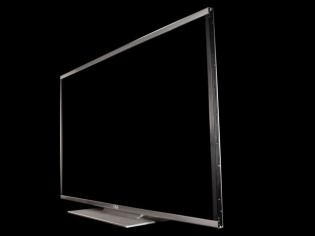 Vu Technologies has also embraced the 4K TV revolution, and has now unveiled its new 84" Ultra HD LED TV. As the name suggests, it sports an 84" panel with pixel dimensions of 3840x2160 or 4K, which means it has four times as many pixels as a Full HD TV. Vu boasts that the TV has an A+ Grade Achromatic Panel with Bright LED Backlit and 1:1 pixel mapping that should allow it to last for over a lakh hours of viewing. Doing the maths, if the TV is on for 8 hours a day, it should go on for over 34 years, which is a rather long time.
This TV supports passive 3D and comes with, what the company calls, Silkmotion 3D Glasses. Of course, these are nothing but polarised glasses that work with the polarised TV panel to separate the left and right eye visuals to help recreate 3D visuals when worn. Being passive, the glasses don't need to be charged. The higher pixel dimensions allow currently available Full HD 3D content to be viewed at the native resolution, which is not possible on a Full HD TV with passive 3D. The company mentions that the 3D appears with the same effectiveness from various angles.
The TV also contains a set-top box that works with any cable operator and supports Dolby Digital True HD sound. One of the USPs of this TV is that it contains a PC running Windows, Mac, Linux, or Android OS as per customisation and there is a 500 GB hard drive to download and store movies. There are three USB ports to connect peripherals and Intel HD 3000 graphics. A wireless keyboard and mouse are also provided as input devices that can be used from a convenient distance. Furthermore, the panel is customisable for different frames, and even touch input. The TV also supports streaming over Wi-Fi using Miracast peer-to-peer wireless screencast standard that mirrors video from a phone to the TV's screen.
Detailed hardware specifications are not available at present, but we will update the article when available. Vu is targeting businesses as well as home users (the opulent ones) with this new TV. The base model of the VU 84" Ultra HD LED TV will set you back by Rs 9 lakhs, which the company calls a "modest price". Vu is offering Rs 1 lakh discount if you book it before 31st August.