BenQ 3D Projector Will Help You Set Up Your Personal Theatre With A 300" Screen
The W750 with HD DLP projection has been priced reasonably at Rs 60,000.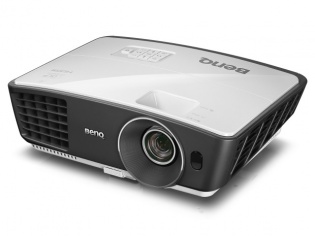 BenQ has launched a new 3D projector — the W750 that will let you project images on a screen as large as 300". This should effectively allow you to set up your own home theatre. It uses DLP projection and has a native resolution of 1280x720. The projector supports Full HD 3D that is compatible with NVIDIA 3D Vision, and hence comes with a pair of 3D glasses. It is also compatible with 3D Blu-ray players and game consoles that support 3D. The 3D is projected via a single lens projection system, as compared to the two as is used conventionally, and hence is more compact. Two HDMI 1.4a inputs are present to connect various digital A/V source and there is a 10 W speaker, in case you don't happen to have anything better. There are also component and VGA inputs.
For those who are worried about the lamp used, the W750 features SmartEco Technology that claims to adjust the lamp power to maximise power saving up to 70%. The lamp has a brightness of 2500 ANSI Lumens, which is more than enough for large rooms with medium lighting. A Quick-release button is present to ease the projector placement. Here are the specifications of the W750:
Projection type: DLP.
Native Resolution: 720p (1280x720).
HDTV Compatibility: 480i, 480p, 576i, 567p, 720p, 1080i, 1080p.
Resolution Support: Up to UXGA (1600x1200).
Aspect Ratio: Native 16:9 (5 aspect ratios selectable).
Brightness: 2500 ANSI Lumen.
Contrast Ratio: 13,000:1.
Picture Modes: Dynamic / Standard / Cinema / 3D / User 1 / User 2 / User 3.
3D Direct Play, 2x 3D glasses.
2x HDMI 1.4a ports, Composite video input, D-Sub, Audio in, Audio out, Micro-USB 2.0, 10 W speakers.
Power Consumption: 275 W (typical), 0.5 W (standby).
Lamp Type: 210 W.
6500 hours lamp life in SmartEco Mode.
Multi-language UI.
12.8" (W) x 4.5" (H) x 9.5" (D), 2.6 kg.
A micro-USB port is present on the device, which is not for USB playback but is likely to be there for maintenance purposes. At an MRP of Rs 60,000, the BenQ W750 costs substantially lesser than a big-size 3D television. It is a very affordable alternative for those who want to enjoy life-size 3D movies, but don't want to get their feet wet to go to the cinema hall. In fact, it costs about as much as a 42" 3D TV from any reputed brand at present. Of course, you will need a wall big enough to project an image that big and the room needs to be dark. However, you must make sure that you don't project too large an image because they may not look so good, as this projector has a native resolution limit of 720p instead of 1080p. However, that's a trade-off that you should be able to handle at this price point.