Salora Introduces Two LED TVs, Prices Start At Rs 22,000
32" and 39" models aim to provide big screen entertainment at a reasonable price.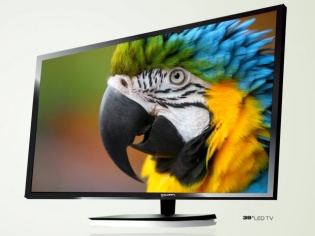 Salora, the company which has been in the TV business since the CRT tube age and has recently entered the mobile phone segment, has launched two new flagship LED-backlit LCD TVs. The Salora SLV 3321 and SLV 3391 have 32" and 39" screens respectively, and look identical with a slim bezel styling. While the former comes with pixel dimensions of 1366x768, the latter sports a Full HD (1920x1080) panel. All common ports are present and the USB port supports playback of images, audio, and video (limited format support). Being LED-backlit, they consume lesser power: The 32" TV consumes an average of 60 W, while the 39" consumes 90 W. Here are the specifications:
Aspect ratio: 16:9.
Backlighting: LED.
Contrast ratio: 1500:1, 1200:1 (SLV 3321).
Brightness: 300 cd/m2, 250 cd/m2 (SLV 3321).
Response time (G2G): 8.5 ms , 8 ms (SLV 3321).
TV systems: PAL/SECAM.
Sound system: B/G, D/K, L/L.
Audio output: 2x10 W (stereophonic).
Input ports: RF, CVBS, YPbPr, CVBS/YPbPr audio R L, VGA, PC audio, HDMI.
Output ports: AV, AV audio, Earphone.
1x USB (JPEG, MP3, MPEG-1, MPEG-2, MPEG-4).
Additional TV features: 3D comb filter, Noise reduction, Weak signal enhancement.
Power consumption: 90 W (SLV3391), 60 W (SLV 3321).
The Salora website also shows an upcoming 50" 3D TV SLV 3501 model, which should also be priced lower than the bigger brands. It will be worth waiting for, if you happen to have a large living room and are looking for a cheap 3D TV. Of course, the performance also matters and that is something we cannot comment upon before actually taking a first-hand look at the product. The SLV 3321 costs Rs 22,000, while the SLV 3391 is priced at Rs 32,000. At its current pricing, the 39" TV certainly seems to be a good deal, if it performs well. AKAI, Toshiba, and AOC had also launched affordable TVs and we can expect them to launch 39" TVs soon as well. A healthy competition in the TV segment is always a win-win situation for the consumer.