Apple iPhone 4S Now Up For Pre-Order
Pricing starts at Rs 44,500.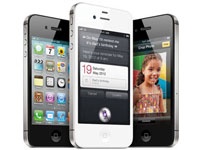 We recently reported that Aircel was putting up the iPhone 4S for pre-order on November 18 (yesterday). However, due to some technical difficulties, the company couldn't put up anything regarding this on its website until late in the day. Well, the pricing for the Aircel iPhone 4S has been finally revealed and it is not as reasonable as we had expected. According to the company, the last date to pre-order will be November 24th and the delivery date for the device is said to be November 26th (though Aircel initially stated the launch date to be 25th). Interestingly, nothing has showed up on Airtel's site, which is also prepping to roll out the new iDevice in India.

The iPhone 4S on Aircel's network will start from Rs 44,500 for the base model (16 GB), while the 32 GB iPhone 4S will cost Rs 50,900. There is no info on the 64 GB variant, but according to the company, they are all sold out (black, as well as white versions). It seems like the mobile service provider doesn't have the 64 gig version in stock yet, which explains the sold out sign. Be that as it may, the 16 and 32 GB versions are still up for grabs, which is great news for the fans. The pricing of the new Apple smartphone though, is a matter of concern for Indian fans. There is no info available on the offers and data plans that the carrier will be providing with the iPhone 4S. That being said, we presume that Aircel will re-introduce money back plans similar to the one introduced with the iPhone 4 back in May. While it has been fairly silent since the news broke out, we expect it to reveal some information about the launch soon. Do you think the iPhone 4S on Aircel is worth the price?

Update: Airtel has put up the iPhone 4S up for pre-order as well on its website. And like with Aircel, there is no mention of the 64GB variant. So I guess customers will not get to see this particular model anytime soon. The prices remain the same for the 16 and 32GB variants (Rs. 44,500 and Rs. 50,900).


Aircel's iPhone 4S pre-order page