Airtel Offers 50% Discounted 3G Plans For Apple iPhone 5
Available only for post-paid subscribers who buy the smartphone from Airtel.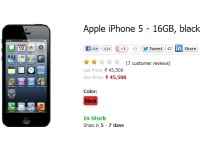 Even as tonight's India launch of Apple's iPhone 5 is eagerly anticipated, Airtel has announced special plans for the iPhone 5, effective today. Airtel's four plans for post-paid customers carry a monthly plan discount of as much as 50%. The plans include limited free calling minutes, free SMSes, and free 3G data. Once the free usage is exhausted, outgoing calls are charged at 60 p/min to mobiles and 90 p/min to landlines. Outgoing SMSes will be 40 paise per SMS. There is no provision to opt in for an additional data pack once the data limit is reached.
These plans are not available for any other device; they are contractually bound to iPhone 5 units bought from Airtel. A company representative said they might announce prepaid plans too. You can currently pre-order the 16 GB black version of the iPhone 5 from Airtel for Rs 45,500. Other versions will soon become available, according to the Airtel representative.