Cyberoam Launches NetGenie
Combines Wi-Fi AP, security, internet controls, and 3G readiness in a single device.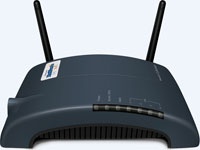 The internet offers us a wealth of information like never before, but it is also the place where hackers, viruses and malware are always on the prowl to snoop upon your sensitive information. Software protection is the most likely remedy used in such cases, although it becomes increasingly expensive when you have to install it and administer it on several computers. Cyberoam has unveiled NetGenie, which is a device promising to protect any computer connected to the internet through it. The device incorporates a Wi-Fi access point, internet controls, security, and 3G readiness.

Available for Home and SoHo, this device is simple to set up with a pre-set security setting to get it working out of the box. The NetGenie GUI presents a colourful interface to create users with restrictions based on age or groups. The hardware firewall and anti-virus protects against the threats lurking online with regularly software updates. It also supports 3G modems and USB dongles for sharing internet. There is support for a schedule-based internet access for website categories and applications.

NetGenie for Home is available at Rs 7999, while the SoHo version can be yours for Rs 10,999.
TAGS: Networking, Jayesh